GFNY Super Sunday in Bali and Ecuador
September 21, 2023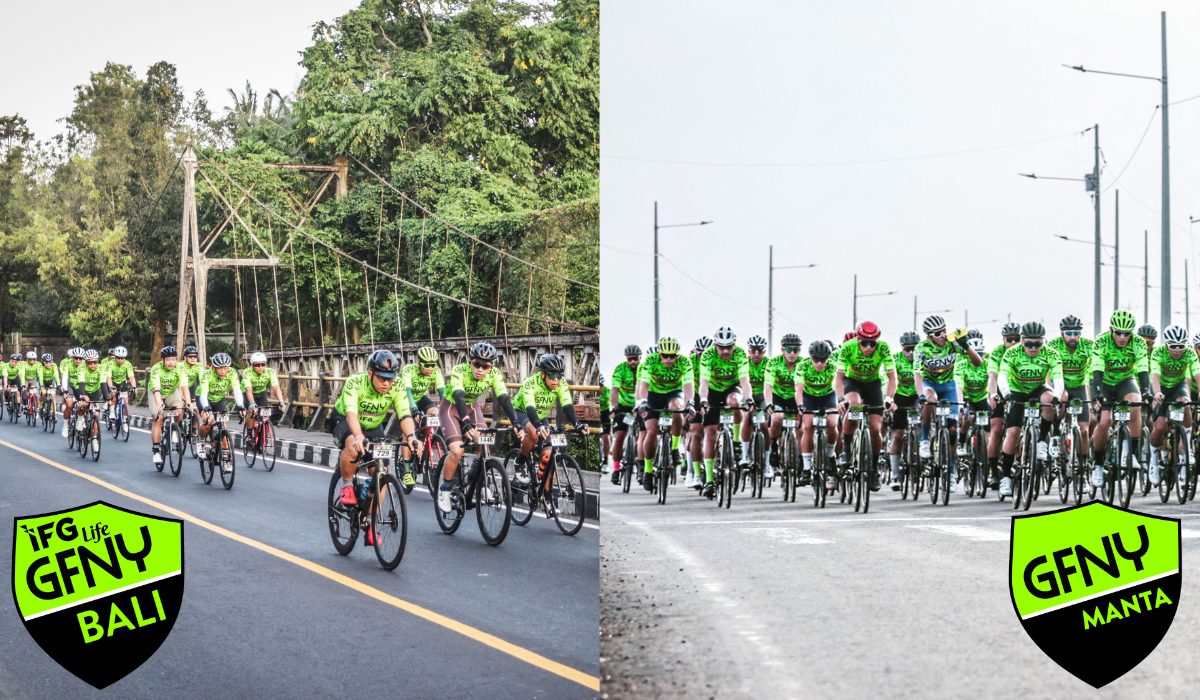 The 5th editions of GFNY Bali and GFNY Manta took place last Sunday
/ENDURANCE SPORTSWIRE/ – Hosted by the tourist village of Sayan-Ubud, the 5th GFNY Bali offered the 1200 riders a 132 km long course with 1824m of climbing on "The Island of the Gods". Supported by hundreds of Bali's Police monitoring intersections along the entire course for a true "BE A PRO FOR A DAY ®" experience, both long and medium course cyclists had a fast start from Sayan Village Market.
A lead group of 17 riders formed at km 30, including riders from Barong Cycling Team (Bali), Matador Team (Singapore) and Jakarta's famous KGB.
The climb up Panelokan-Kintamani split the peloton. After several attacks, seven riders managed to escape the main group including Muhamad Afandimunir (Indonesia), Matthew Brittain (South Africa), and Luke Chambers (Hong Kong). Only Brittain and Chambers reached the summit together at km 70.
After a very fast descent, reaching speeds of over 90km/h and entering the Gianyar area, Chambers managed to break away and took the solo win in 3:31:30, followed by Brittain (Team Matador Racing) and Afandimunir (Spartan EJ Sport).
In the female race, Alicia Brittain (South Africa) won in 4:16:57, followed by Indonesians Yanthy Fuchianty and Qoriah Julilda who completed the podium.
GFNY Manta
The fifth annual GFNY Manta was held on a 127km long competitive course with an elevation gain of 2122m.
Luis Monteros was the overall winner at GFNY Manta with 3:39:36, followed by a sprint finish between John Palma and Joaquin Castro who rounded out the all Ecuadorian podium.
In the women's competition, defending GFNY Manta 2022 champion Diana Cano (USA) clocked first place with 4:12:06, followed by Ecuadorians Andrea Teran and Miluska Marquez.
Next up on the GFNY calendar is the fifth edition of GFNY Chile which will take place Sunday, September 24, 2023.
About GFNY Global Endurance Sports Series
GFNY Global Endurance Sports Series is a sports event company with three decades of experience in racing, planning and organizing events. The global endurance sports brand hosts multiple events throughout the year around the world on five continents.
Working with partners around the world to deliver a first-class experience, GFNY Global Endurance Sports Series puts its athletes first.
Cycling
30-plus events held around the world. View the latest calendar here
Riders get to BE A PRO FOR A DAY ® by competing against others, themselves and the clock in a personal endurance challenge.
Top 10% (20% at regional championships) of finishers in each age group qualify for the Elite Qualifier Corral at every GFNY World event.
GFNY World Championship NYC
The 12th annual GFNY World Championship New York will be held on May 19, 2024. The race features the world's most international peloton with riders from over 90 countries. Athletes take on a challenging route to compete against each other, the clock and themselves in a personal endurance challenge.
The official GFNY website is: www.gfny.com.
Further Material for Media Use
Official GFNY Bali video: here
Official GFNY Manta video: here
GFNY Press Images: here
GFNY Results: here
GFNY World calendar graphic: here
Previous GFNY press releases: here
Media Contact
Gran Fondo New York Inc.
Uli Fluhme, uli@gfny.com
Caroline Lindsay, caroline@gfny.com