GFNY returns to Puerto Rico
March 31, 2022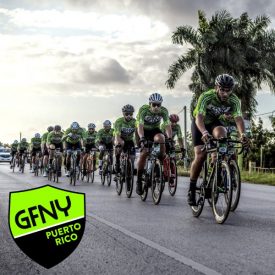 Scheduled for October 9, 2022 the Caribbean island will host a completely revamped GFNY Puerto Rico
/ENDURANCE SPORTSWIRE/ – The competitive long distance of GFNY Puerto Rico starts and finishes at the spectacular El Conquistador Resort in Fajardo. The 92 miles long course with 6013 feet of climbing tackles the hilly roads on the eastern part of the island along El Yunque National Forest. The non-competitive course is 54 miles long and has 3285 feet of climbing.
Located on the easternmost tip of Puerto Rico, Fajardo is a great base to explore Puerto Rico's nearby islands and cays. Known for breathtaking views and pristine natural reserves, the town is only 40 minutes away from SJU airport.
"We're excited to be back in Puerto Rico after a short stint back in 2015," says GFNY President Lidia Fluhme. "It's a brand new course on roads that I know well and was able to help choose for the race. With the El Conquistador Resort as a host, it's going to be a hard to beat experience."
Website: puertorico.gfny.com
About GFNY Global Endurance Sports Series
GFNY Global Endurance Sports Series is a sports event company with three decades of experience in racing, planning and organising events. The global endurance sports brand hosts multiple events throughout the year around the world on five continents.
Working with partners around the world to deliver a first-class experience, GFNY Global Endurance Sports Series puts their athletes first.
Cycling
30 plus events around the world. View the 2022 calendar here
Riders get to BE A PRO FOR A DAY ® by competing against others, themselves and the clock in a personal endurance challenge.
Top 10% (20% at regional championships) of finishers in each age group qualify for the Racer Corral at every GFNY World event.
GFNY World Championship NYC
The 10th annual GFNY World Championship New York will be held on May 15, 2022. The race features the world's most international peloton with riders from over 90 countries. Athletes take on a challenging 100-mile route from NYC to Bear Mountain to Fort Lee to compete against each other, the clock and themselves in a personal endurance challenge.
The official GFNY website is: www.gfny.com.
Further Material for Media Use
Official GFNY Puerto Rico video: here
GFNY Press Images: here
GFNY Results: here
GFNY World calendar graphic: here
Previous GFNY press releases: here
Media Contact
Gran Fondo New York Inc.
Uli Fluhme, uli@gfny.com
Caroline Lindsay, caroline@gfny.com