GFNY returns to Colombia for 6th GFNY Bogota
January 25, 2022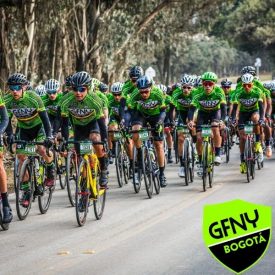 Scheduled for July 17, 2022, GFNY Bogota expects 2500 racers
NEW YORK CITY/ENDURANCE SPORTSWIRE/ – GFNY Global Endurance Sports Series brings back GFNY Bogota, scheduled for July 17, 2022. The competitive long distance of GFNY Bogota is 121km long with 2565m of climbing. Start and finish are hosted in Guatavita at 2725m, one hour from Bogota. The race's highest point is the legendary Cuchilla at a whopping 3365m.
"GFNY isn't complete without a race in Colombia," says GFNY CEO Uli Fluhme. "And this time we don't leave it at one race. However, we do start where we left off before you-know-what: in Bogota.
GFNY Colombia is now in the hands of the experienced Mexican GFNY crew around Daniela and Shaun Gad who own hugely successful races such as GFNY Cozumel and GFNY Monterrey.
Bogota is the capital and largest city in Colombia, located 2600m above sea level, surrounded by the Andes mountains and abundant vegetation. It is one of the most famous destinations in South America steeped in history, gastronomy, culture, business and fun. The two-day packet-pickup and expo of GFNY Bogota will be held in the heart of the city.
Further GFNYs in Colombia in addition to Bogota are planned for later in the year and 2023.
Website: bogota.gfny.com