GFNY opens 2022 with two beach resort races this Sunday
March 17, 2022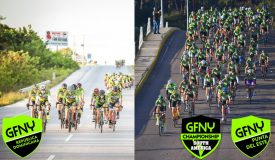 GFNY kicks off the race season with two road cycling races hosted in beach resorts: GFNY Punta del Este and GFNY Republica Dominicana will be held this Sunday, March 20, 2022.
/ENDURANCE SPORTSWIRE/ – The 4th GFNY Punta del Este is based in South America's most famous beach resort where riders competing in the long competitive course will race 172.8 km with an elevation of 1773 m. The flat to hilly course offers plenty of opportunity for racers to make a difference when aiming for winning the GFNY South American Championship. Overall winners get rewarded with flight and accommodation at the 10th GFNY NYC World Championship in NYC on May 15.
"GFNY Punta del Este is currently the longest race in the GFNY circuit and the undulating character of the course make it very attractive," says GFNY CEO Uli Fluhme.  "You head from this swanky beach scenario into a different world with hilly farmland past olive tree groves – and then you get back to the beach. You can see this journey in the eyes of the riders at the finish. The beach life remained unchanged and still while the riders saw a different world."
The 2nd GFNY República Dominicana will take place in another famous beach resort, this time the Caribbean Punta Cana, known for its white sand beaches, blue turquoise water and tropical weather.  The long distance of 149.7 kilometres with its flat roads and rolling hills accumulates 962m of climbing.
"Punta Cana is one of those dream beach destinations for the whole family. But unlike many others, you also get to race your bike when you come for GFNY," says GFNY President Lidia Fluhme. "Offering something for non-riding friends and family is something that we always look for in GFNY events. And in Punta Cana it's easy. Who doesn't like white sandy beaches?"
About GFNY Global Endurance Sports Series
GFNY Global Endurance Sports Series is a sports event company with three decades of experience in racing, planning and organising events. The global endurance sports brand hosts multiple events throughout the year around the world on five continents.
Working with partners around the world to deliver a first-class experience, GFNY Global Endurance Sports Series puts their athletes first.
Cycling
30 plus events around the world. View the 2022 calendar here
Riders get to BE A PRO FOR A DAY ® by competing against others, themselves and the clock in a personal endurance challenge.
Top 10% (20% at regional championships) of finishers in each age group qualify for the Racer Corral at every GFNY World event.
GFNY World Championship NYC
The 10th annual GFNY World Championship New York will be held on May 15, 2022. The race features the world's most international peloton with riders from over 90 countries. Athletes take on a challenging 100-mile route from NYC to Bear Mountain to Fort Lee to compete against each other, the clock and themselves in a personal endurance challenge.
The official GFNY website is: www.gfny.com.
Further Material for Media Use
Official GFNY Punta del Este video: here
Official GFNY República Dominicana video: here
GFNY Press Images: here
GFNY Results: here
GFNY World calendar graphic: here
Previous GFNY press releases: here
Media Contact
Gran Fondo New York Inc.
Uli Fluhme, uli@gfny.com
Caroline Lindsay, caroline@gfny.com