GFNY North American Championship 2023 held in Puerto Rico
November 25, 2022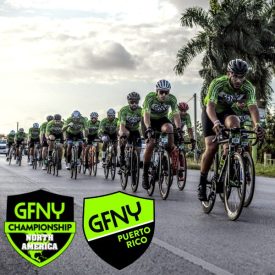 Scheduled for February 5, 2023 the Caribbean island will serve as the GFNY North American Championship
/ENDURANCE SPORTSWIRE/ – GFNY Puerto Rico offers a championship worthy 82.7 miles long course with 5086 feet of climbing with start and finish in the capital San Juan. The racecourse begins flat through Carolina but quickly turns inland on undulating roads including four distinctive climbs before heading back through Carolina to the finish in San Juan.
"The 2023 GFNY Puerto Rico has all the ingredients for a championship race: a course that favors allrounders, perfect racing weather and a great excuse for riders and accompanying family and friends from colder climates for a beautiful warm weather break. Puerto Rico is a sought after travel destination for a reason," says GFNY CEO Uli Fluhme.
GFNY Championship races draw a larger and more competitive field due their elevated prestige and the fact that not the top 10% but 20% of finishers in each age group will gain a Qualifier Corral slot for all GFNY races for the next 380 days.
Meanwhile overall champions will be rewarded with flights to and accommodation at the 11th GFNY NYC World Championship on May 21, 2023.
"The GFNY Championship races are open to anyone so riders not just from North America but just as much South America are expected to compete," says Fluhme. "And for the more casual riders there is always the non-competitive (but timed) shorter distance at GFNY."
About GFNY Global Endurance Sports Series
GFNY Global Endurance Sports Series is a sports event company with three decades of experience in racing, planning and organizing events. The global endurance sports brand hosts multiple events throughout the year around the world on five continents.
Working with partners around the world to deliver a first-class experience, GFNY Global Endurance Sports Series puts their athletes first.
Cycling
30 plus events around the world. View the latest calendar here
Riders get to BE A PRO FOR A DAY ® by competing against others, themselves and the clock in a personal endurance challenge. Top 10% (20% at regional championships) of finishers in each age group qualify for the Racer Corral at every GFNY World event.
GFNY World Championship NYC
The 11th annual GFNY World Championship New York will be held on May 21, 2023. The race features the world's most international peloton with riders from over 90 countries. Athletes take on a challenging 100-mile route from NYC to Bear Mountain to Fort Lee to compete against each other, the clock and themselves in a personal endurance challenge.
The official GFNY website is: www.gfny.com.
Further Material for Media Use
Official GFNY Puerto Rico video: here
GFNY Press Images: here
GFNY Results: here
GFNY World calendar graphic: here
Previous GFNY press releases: here
Media Contact
Gran Fondo New York Inc.
Uli Fluhme, uli@gfny.com
Caroline Lindsay, caroline@gfny.com