GFNY North America Championship this Sunday in Sebring, Florida
October 29, 2021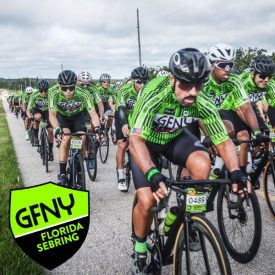 GFNY Global Endurance Sports Series is back in Florida with an incredibly international peloton despite lingering travel hesitations
/ENDURANCE SPORTSWIRE/ – After their inaugural GFNY Marathon in Sebring last week, GFNY Global Endurance Sports Series is back with cycling at the second GFNY Florida Sebring this Sunday, October 31. It's this year's GFNY North America Championship race where the champions win a fully covered trip to the World Championship in NYC on May 15, 2022.
Race week activities take place in the historic Downtown Sebring with group rides Friday & Saturday featuring Olympians Nelson Vails (USA) and Luis Lemus (Mexico). Saturday, 2-13 year olds get to Be a Pro For a Day at GFNY Kids.
On Sunday, the race starts at the Highlands County YMCA and heads west for a scenic loop through Central Florida's tranquil and scenic nature. The 90-mile race will be fast and furious without any noticeable elevation gain. The 55-mile non-competitive ride is a shorter version of the same course.
Despite ongoing travel restrictions and a general hesitations of people to travel, the peloton will be incredibly international this Sunday. Athletes from 22 countries and all across the US are taking part. Because it's a regional Championship, the top 20% of riders of all age groups in the long course will qualify for a front corral start at all GFNY cycling races for the following race season.
"Sebring is quickly becoming a hot spot for cycling and now also running due to the two races we hold here in October,' says GFNY co-founder Lidia Fluhme. "Florida is a tough spot to hold races due to the lack of low traffic roads. But Sebring is conveniently located between Miami, Tampa and Orlando and has some of the very best cycling in the state. Highlands County has been amazing to work with to close or moderate roads in order to give the 800 racers a safe and exciting experience."
Website: florida.gfny.com
About GFNY Global Endurance Sports Series
GFNY Global Endurance Sports Series is a sports event company with three decades of experience in racing, planning and organizing events. The global endurance sports brand hosts multiple events throughout the year around the world on five continents.
Working with partners around the world to deliver a first-class experience, GFNY Global Endurance Sports Series puts their athletes first.
Cycling
20 plus events around the world. View the 2021-2022 calendar here
Riders get to BE A PRO FOR A DAY ® by competing against others, themselves and the clock in a personal endurance challenge.
Top 10% (20% at regional championships) of finishers in each age group qualify for the Racer Corral at every GFNY World event.
GFNY World Championship NYC
The 10th annual GFNY World Championship New York will be held on May 15, 2022. The race features the world's most international peloton with riders from over 90 countries. Athletes take on a challenging 100-mile route from NYC to Bear Mountain to Fort Lee to compete against each other, the clock and themselves in a personal endurance challenge.
The official GFNY website is: www.gfny.com.
Further Material for Media Use
GFNY Florida Sebring video: here
GFNY Press Images: here
GFNY Results: here
GFNY World calendar graphic: here
Previous GFNY press releases: here
Media Contact
Gran Fondo New York Inc.
Jenna van der Heide, jenna@gfny.com
Uli Fluhme, uli@gfny.com