GFNY launches Marathon running
October 22, 2021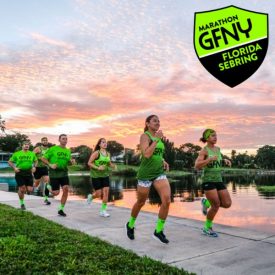 GFNY Florida Marathon marks the first running event of the GFNY Global Endurance Sports Series this Sunday, October 24
/ENDURANCE SPORTSWIRE/ – GFNY Endurance Sports Series is back in the United States with the inaugural running event, GFNY Marathon Florida Sebring. The course is USATF certified and the flat and fast route makes it the perfect race for runners wanting to score a personal best. GFNY Marathon Florida also offers a half marathon distance and 4.2-mile fun run around the Raceway.
The course starts before dawn with a big loop under the bright floodlights of the Sebring International Raceway. The flat course is divided into three out-and-back legs, which provides a fantastic racer and spectator experience. With ample aid stations, music and cheer-on stations, the race is destined to be a party for runners.
"It's a natural step for us to bring GFNY also into running" says GFNY CEO Uli Fluhme, "Both Lidia and I are lifelong runners, having run combined over 50 marathons. It's always only been a matter of time for us when we would launch GFNY running and we're excited it's finally happening. GFNY Marathon Florida Sebring is the first of over many more marathons to come."
Website: floridamarathon.gfny.com
About GFNY Global Endurance Sports Series
GFNY Global Endurance Sports Series is a sports event company with three decades of experience in racing, planning and organizing events. The global endurance sports brand hosts multiple events throughout the year around the world on five continents.
Working with partners around the world to deliver a first-class experience, GFNY Global Endurance Sports Series puts their athletes first.
Cycling
20 plus events around the world. View the 2021-2022 calendar here
Riders get to BE A PRO FOR A DAY ® by competing against others, themselves and the clock in a personal endurance challenge.
Top 10% (20% at regional championships) of finishers in each age group qualify for the Racer Corral at every GFNY World event.
GFNY World Championship NYC
The 10th annual GFNY World Championship New York will be held on May 15, 2022. The race features the world's most international peloton with riders from over 90 countries. Athletes take on a challenging 100-mile route from NYC to Bear Mountain to Fort Lee to compete against each other, the clock and themselves in a personal endurance challenge.
The official GFNY website is: www.gfny.com.
Further Material for Media Use
GFNY Florida Marathon video: here
GFNY Press Images: here
GFNY World calendar graphic: here
Previous GFNY press releases: here
Media Contact
Gran Fondo New York Inc.
Jenna van der Heide, jenna@gfny.com
Uli Fluhme, uli@gfny.com