GFNY Italia races Tuscany's historic strade bianche
October 20, 2021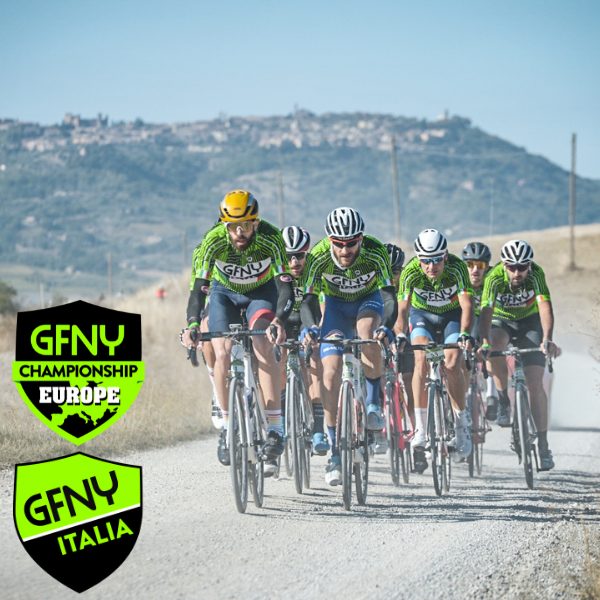 Sunday's GFNY Championship Europe was held in Montepulciano on tough course
/ENDURANCE SPORTSWIRE/ – GFNY was back on Italian soil with the GFNY Championship Europe at GFNY Italia last Sunday. The main challenge of the 101 km course with 1889m of climbing and gradients up to 20% were 26 km of "strade bianche" (white gravel road). The 5 km climb to the finish line ended with a steep 18% climb to the town market square of Montepulciano. No clouds in the sky and perfect racing temperatures made the Tuscan hills an oversized sports ground that has to be described as Disneyland for cyclists: hills, small and twisty roads, historic towns and villages – spettacolo!
32-year-old former Lampre and Vini Farnese pro Alfredo Balloni (IT) took the win in 2:59:15. His average of 33km/h shows the difficulty of the course. The all-Italian podium was rounded out by Alessio Lazzeri in second place, and Fabio Orcame in third.
With his win, Balloni earned a fully paid trip to the GFNY World Championship in New York City on May 15, 2022 where he will be a hot contender for the win if he is in the lead group at the final climb up Dyckman Hill.
In the women's race, Italian Chiara Turchi took the win in 03:38:15. Dutch Rochelle Verhagen came in second place with a time of 03:45:06, and Rachele Chisi (IT) rounded out the podium. Race favorite and 2019 GFNY NYC World Champion Jill Patterson (USA) led the race for a long time until two flats ended her day.
"Racing on strade bianche is something that any serious bike racer should experience at least once" says GFNY CEO Uli Fluhme. "Given the good condition of the strade bianche – which are maintained as official local roads – this is far from a gravel race. It's a road race with a twist. If you show up on a gravel bike, you'll suffer more on the road sections than you gain on the strade bianche."
GFNY Endurance Sports Series now returns to the United States with their inaugural running event GFNY Marathon Florida Sebring on this Sunday, October 24.
About GFNY Global Endurance Sports Series
GFNY Global Endurance Sports Series is a sports event company with three decades of experience in racing, planning and organizing events. The global endurance sports brand hosts multiple events throughout the year around the world on five continents.
Working with partners around the world to deliver a first-class experience, GFNY Global Endurance Sports Series puts their athletes first.
Cycling
20 plus events around the world. View the 2021-2022 calendar here
Riders get to BE A PRO FOR A DAY ® by competing against others, themselves and the clock in a personal endurance challenge.
Top 10% (20% at regional championships) of finishers in each age group qualify for the Racer Corral at every GFNY World event.
GFNY World Championship NYC
The 10th annual GFNY World Championship New York will be held on May 15, 2022. The race features the world's most international peloton with riders from over 90 countries. Athletes take on a challenging 100-mile route from NYC to Bear Mountain to Fort Lee to compete against each other, the clock and themselves in a personal endurance challenge.
The official GFNY website is: www.gfny.com.
Further Material for Media Use
GFNY Italia video: here
GFNY Press Images: here
GFNY World calendar graphic: here
Previous GFNY press releases: here
Media Contact
Gran Fondo New York Inc.
Jenna van der Heide, jenna@gfny.com
Uli Fluhme, uli@gfny.com