GFNY expands in Asia with Krabi Thailand
September 13, 2022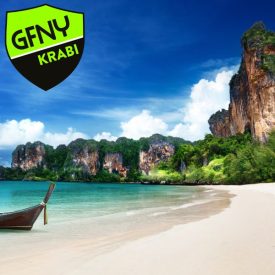 GFNY Krabi is adding to races in Indonesia, Malaysia and the Philippines and will take place on February 26, 2023
/ENDURANCE SPORTSWIRE/ – GFNY Global Endurance Sports Series adds GFNY Krabi, scheduled for February 26, 2023. The competitive long distance is 135.4km long with 2115m of climbing. Start and finish will be hosted directly aside Krabi´s most famous, central and prominent beach: Ao Nang.
"GFNY's expansion in Asia had been paused due to the pandemic but we're back on track now with this spectacular new destination," says GFNY CEO Uli Fluhme.
"The GFNY events in South East Asia attract a much younger demographic compared to mass participation events in Europe or North America. Similar to Latin America, there is also a much higher percentage of women racing which is exciting."
"In traditional cycling countries there is concern about the lack of young riders. Having held races in Asia since 2016 and seen the excitement for the sport, I have been confident ever since that the popularity of road cycling among young people there will ultimately extend back to Europe."
Krabi, located in the southern west coast of Thailand, is one of the most popular tourist destinations in Thailand. It's famous for stunning views, breathtaking beaches and islands, as well as being home to one of the most beautiful coral reefs around the world. Krabi also features some of the most photogenic sunsets in Thailand accompanied by spectacular cloud displays and dramatic limestone formations.
Krabi presents GFNY riders, families and friends a wide range of countless nature attractions, cultural activities, a variety of hotels and restaurants, fantastic cuisine and tourism options which will make the GFNY adventure of a lifetime.
Website: krabi.gfny.com
About GFNY Global Endurance Sports Series
GFNY Global Endurance Sports Series is a sports event company with three decades of experience in racing, planning and organizing events. The global endurance sports brand hosts multiple events throughout the year around the world on five continents.
Working with partners around the world to deliver a first-class experience, GFNY Global Endurance Sports Series puts their athletes first.
Cycling
20 plus events around the world. View the 2021-2022 calendar here
Riders get to BE A PRO FOR A DAY ® by competing against others, themselves and the clock in a personal endurance challenge.
Top 10% (20% at regional championships) of finishers in each age group qualify for the Racer Corral at every GFNY World event.
GFNY World Championship NYC
The 10th annual GFNY World Championship New York will be held on May 15, 2022. The race features the world's most international peloton with riders from over 90 countries. Athletes take on a challenging 100-mile route from NYC to Bear Mountain to Fort Lee to compete against each other, the clock and themselves in a personal endurance challenge.
The official GFNY website is: www.gfny.com.
Further Material for Media Use
Official GFNY Krabi video: here
GFNY Press Images: here
GFNY Results: here
GFNY World calendar graphic: here
Previous GFNY press releases: here
Media Contact
Gran Fondo New York Inc.
Uli Fluhme, uli@gfny.com
Caroline Lindsay, caroline@gfny.com