GFNY Ecuador: Spectacular coastal roads at the equator
September 23, 2021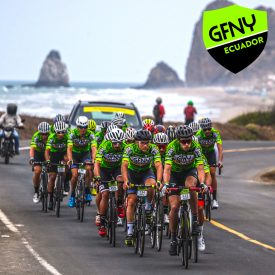 GFNY continues to dominate South American mass participation cycling event with GFNY Ecuador Manta on September 26
/ENDURANCE SPORTSWIRE/– GFNY Global Endurance Sports Series returns to Latin America for the third time this year with GFNY Ecuador on Sunday, September 26. The race offers a long course of 143 kilometers and a (non-competitive) medium course of 65 kilometers.
The competitive long course, with 2034 meters of climbing,  will take riders from the start at Wyndham Manta Gail Plaza along the beautiful Ecuadorian Pacific Coastline, the Pacoche forest, and back through the nearby mountain range.
"GFNY Ecuador was the first ever mass participation cycling race in Ecuador back in 2019," says GFNY CEO Uli Fluhme.
"Breaking ground in a new country is always exciting and provides unique challenges, yet it makes us extra proud when achieved. Huge props to Elena Nolasco, Christian Mendez and the whole GFNY team in Ecuador to further grow and evolve this spectacular event in the midst of a global pandemic."
"Cycling is a phenomenal outlet and strengthens physical and mental well being, especially in a crisis. And being outdoors, it can be done in a safe way during a pandemic."
Website: ecuador.gfny.com
About GFNY Global Endurance Sports Series
GFNY Global Endurance Sports Series is a sports event company with three decades of experience in racing, planning and organizing events. The global endurance sports brand hosts multiple events throughout the year around the world on five continents.
Working with partners around the world to deliver a first-class experience, GFNY Global Endurance Sports Series puts their athletes first.
Cycling
20 plus events around the world. View the 2021-2022 calendar here
Riders get to BE A PRO FOR A DAY ® by competing against others, themselves and the clock in a personal endurance challenge.
Top 10% (20% at regional championships) of finishers in each age group qualify for the Racer Corral at every GFNY World event.
GFNY World Championship NYC
The 10th annual GFNY World Championship New York will be held on May 15, 2022. The race features the world's most international peloton with riders from over 90 countries. Athletes take on a challenging 100-mile route from NYC to Bear Mountain to Fort Lee to compete against each other, the clock and themselves in a personal endurance challenge.
The official GFNY website is: www.gfny.com.
Further Material for Media Use
GFNY Ecuador video: here
GFNY Press Images: here
GFNY World calendar graphic: here
Previous GFNY press releases: here
Media Contact
Gran Fondo New York Inc.
Jenna van der Heide, jenna@gfny.com
Uli Fluhme, uli@gfny.com