GFNY back at L'Alpe d'Huez
June 16, 2022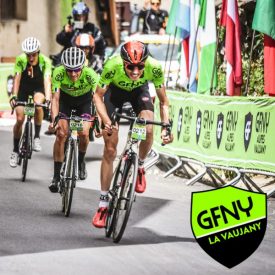 At GFNY La Vaujany, riders tackle L'Alpe d'Huez this Sunday June 19, 2022
New York City, June 16, 2022/ENDURANCE SPORTSWIRE/ – After conquering the legendary Col du Tourmalet in the French Pyrenees a few days ago at GFNY Lourdes, GFNY riders get to race another iconic climb this Sunday: L'Alpe d'Huez.
GFNY La Vaujany is 145.1 km long with 3663m of climbing, including Col de la Morte, Col d'Ornon, L'Alpe d'Huez and Vaujany. The expected heat will make the bottom slopes of L'Alpe d'Huez and the climb to the finish in Vaujany particularly challenging.
Host town Vaujany is the ideal playground to make a rider's French col fantasies come true. It's no coincidence that the queen stage of the World Tour Race "Critérium du Dauphiné" finished in Vaujany last week. Vaujany offers all the amenities a rider and accompanying friends and family could wish for in a mountain village destination.
GFNY will already be back again in Vaujany at the end of August for the third annual GFNY Alpes Vaujany: same host town but a completely different course including the incredible Col de la Croix de Fer and Col du Glandon.
Website: lavaujany.gfny.com and vaujany.gfny.com
About GFNY Global Endurance Sports Series
GFNY Global Endurance Sports Series is a sports event company with three decades of experience in racing, planning and organising events. The global endurance sports brand hosts multiple events throughout the year around the world on five continents.
Working with partners around the world to deliver a first-class experience, GFNY Global Endurance Sports Series puts their athletes first.
Cycling
30 plus events around the world. View the 2022 calendar here
Riders get to BE A PRO FOR A DAY ® by competing against others, themselves and the clock in a personal endurance challenge.
Top 10% (20% at regional championships) of finishers in each age group qualify for the Racer Corral at every GFNY World event.
GFNY World Championship NYC
The 11th annual GFNY World Championship New York will take place on May 21, 2023. The race features the world's most international peloton with riders from over 90 countries. Athletes take on a challenging 100-mile route from NYC to Bear Mountain to Fort Lee to compete against each other, the clock and themselves in a personal endurance challenge.
The official GFNY website is: www.gfny.com.
Further Material for Media Use
Official GFNY La Vaujany Video: here
GFNY Press Images: here
GFNY Results: here
GFNY World calendar graphic: here
Previous GFNY press releases: here
Media Contact
Gran Fondo New York Inc.
Uli Fluhme, uli@gfny.com
Caroline Lindsay, caroline@gfny.com