German and Belgian win GFNY Grand Ballon after 13,307ft of climbing
July 13, 2022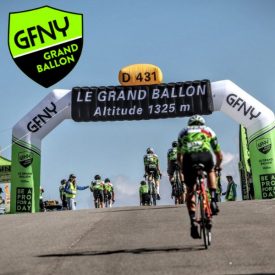 Janine Meyer and Michiel Minnaert prevail
New York City, July 13, 2022/ENDURANCE SPORTSWIRE/ – The inaugural GFNY Grand Ballon challenged racers on a 147.1 km long course with 4056m of climbing in one of the most beautiful destinations in France.
GFNY Grand Ballon started fast in the historic town center of Thann: ten riders formed an early lead group. Into the first climb of the day, a group of four riders including 2020 GFNY Alpes Vaujany Champ Michiel Minnaert (Belgium) took charge. During the climb of Petit Ballon, Frédéric Glorieux (Belgium) put in an attack which was matched by Luxemburger Larry Valvasori and Minnaert.
Glorieux suffered a mechanical just before the last ascent to Grand Ballon so Valvasori and Minnaert took it to line with Minnaert coming out on top in 04:32:10.
In the female race, 2019 GFNY World Championship NYC third place Janine Meyer (Germany) took the solo win in 05:15:15, followed by French Julia Schallau and 2022 GFNY Lourdes Tourmalet and GFNY La Vaujany Champ Jill Patterson, both finishing with the same time in 05:28:35.
Next up on the GFNY calendar is the 6th GFNY Bogota which will take place this Sunday, July 17, 2022.
Website: grandballon.gfny.com
About GFNY Global Endurance Sports Series
GFNY Global Endurance Sports Series is a sports event company with three decades of experience in racing, planning and organising events. The global endurance sports brand hosts multiple events throughout the year around the world on five continents.
Working with partners around the world to deliver a first-class experience, GFNY Global Endurance Sports Series puts their athletes first.
Cycling
30 plus events around the world. View the 2022 calendar here
Riders get to BE A PRO FOR A DAY ® by competing against others, themselves and the clock in a personal endurance challenge.
Top 10% (20% at regional championships) of finishers in each age group qualify for the Racer Corral at every GFNY World event.
GFNY World Championship NYC
The 11th annual GFNY World Championship New York will take place on May 21, 2023. The race features the world's most international peloton with riders from over 90 countries. Athletes take on a challenging 100-mile route from NYC to Bear Mountain to Fort Lee to compete against each other, the clock and themselves in a personal endurance challenge.
The official GFNY website is: www.gfny.com.
Further Material for Media Use
Official GFNY Grand Ballon Video: here
GFNY Press Images: here
GFNY Results: here
GFNY World calendar graphic: here
Previous GFNY press releases: here
Media Contact
Gran Fondo New York Inc.
Uli Fluhme, uli@gfny.com
Caroline Lindsay, caroline@gfny.com