George Municipality and Mountain Ultra-Trail by UTMB® announce new partnership that sees the city and tourism board as Official Host Venue; a partnership that will showcase both the event and race venue globally.
May 24, 2023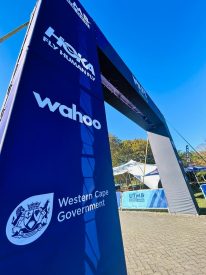 Mountain Ultra-Trail by UTMB® to welcome local and international runners to the Western Cape of South Africa on 26 - 28 May 2023; the event takes place in the city of George.
– The event features a professional ultra trail line up with local stars Ryan Sandes and Rebecca Kohne who won her category last month at Istria 100 by UTMB® in Croatia.
Images and race content can be found: HERE
(GEORGE, South Africa) 24 May 2023 /ENDURANCE SPORTSWIRE/ – For the first time ever, the UTMB® World Series will head to Africa on 26 – 28 May with the inaugural Mountain Ultra-Trail (MUT) by UTMB® taking place in the Western Cape. George Municipality, the Official Host Venue will welcome over 1 400 registered trail runners that will descend on the heart of the Garden Route in the city of George. The event features six different distances of trail running including 9.5km, 24.5km, 41.8km, 59km, 100km and 100-mile (165km).
"It is truly a privilege to welcome the MUT by UTMB® competitors to George where our urban living borders on the foothills into our beautiful Outeniqua Mountains," says George Executive Mayor, Alderman Leon van Wyk. "We look forward to your visit and participation in this inaugural World Series event on the African continent, and that your stay will be enjoyable and successful."
Announced in November last year, the MUT by UTMB® was selected as the first ever UTMB World Series event on the African continent, meaning that South Africans now don't need to travel abroad to get an opportunity to qualify for the pinnacle of all trail races, the UTMB® World Series Finals at Mont-Blanc (28 August – 03 September).
To qualify for a place at the Finals, runners must have at least one Running Stone (which can only be acquired by racing a UTMB World Series Event), and a valid UTMB Index in the necessary category. Find out more here.
MUT by UTMB® finishers will receive Running Stones depending on the distance they run (4 stones for 100-mile; 3 for 100K; 2 for 59K; 2 for 41.1K and 1 stone for the 24.5K distances).
The MUT by UTMB® is a festival of trail running in the garden city of George, on South Africa's east coast. The Outeniqua Mountains rise from the urban edge and provide a spectacular adventure seeker's playground, with hundreds of kilometers of hiking trails crisscrossing the peaks, which reach up to 1,578 meters above sea level, and verdant valleys. Fynbos, one of the world's most biodiverse floral kingdoms, and old growth indigenous forests line the trails, while the high points along the MUT by UTMB® route provide breath-taking views over the Indian Ocean to the south and across the arid Karoo to the north. Alongside the 9.5km, 24.5km, 41.8km, 59km, 100km and 100-mile race distances the event also boasts a Vertical Kilometer Challenge and a social run with the George Trail Running club, who are responsible for much of the trail building and maintenance on the MUT by UTMB® route.
MUT by UTMB® will feature some well-known runners amongst the trail community such as Red Bull's ultra-trail runner, Ryan Sandes (RSA). Others to look out for are Egypt's Omar El Sawy, Iain Peterkin (RSA) and George's very own Rebecca Kohne (RSA) who won her category last month at Istria 100 by UTMB® in Croatia.
"Trail running is considered somewhat of a new sport, and it is certainly growing by the minute," says Elite Trail Runner, Rebecca Kohne. "Having MUT by UTMB® opens up a lot of opportunity for us local trail runners. Qualifying for the UTMB® World Series Final in France at the end of the year is almost every keen trail runner's dream. Having a local race makes it just that much easier to try and live up to our dreams."
Kohne continues, "It is quite surreal to have the first UTMB® certified race here in our hometown, George. George is the most beautiful place, and we certainly have the most incredible mountain range. Some would say our trails are very similar to European trails in some sense. I am extremely excited for this event to take place, and for us South Africans to show off our spectacular mountains and trails. I hope every runner will get to enjoy them just as much as I do."
For more information about MUT by UTMB®, please visit https://mut.utmb.world/. For more information on George, visit www.visitgeorge.co.za.
For any media related inquiries, please email siya.ndzimande@ironman.com and for race day media registration, fill in the media credentials form here.
###
About George
George is situated in the Western Cape province of South Africa and set in the very centre of the Garden Route. 'George' spans all the way from Herolds Bay to Uniondale to Wilderness. It has exceptional natural surroundings – surrounded by oceans, mountains, forests, and farmlands – a temperate climate, outstanding tourism offerings, a low crime rate, good schools and a national airport. The city has seen significant growth over the past two decades and is a sought-after tourism, lifestyle, business, and investment destination. Its diverse landscapes, spanning from the semi-desert open plains and aloes in Uniondale, which are only 1.5 hours away from George and Wilderness's majestic mountains and cool blue oceans, make it a paradise suited for outdoor enthusiasts. There are over 2,000km of mapped trails and plenty of adrenalin-fuelled adventures. The area also boasts premier golf courses, pristine beaches and art, cultural and history experiences. Great gastronomic experiences along with wining and dining top picks, make the destination an all-round experience. For more: visitgeorge.co.za
UTMB® World Series
UTMB® World Series is the world's ultimate trail-running circuit that unites the sport's biggest stars and passionate runners through the best, leading international events in the most stunning locations.  Built on a passion for the mountains with sustainability at its heart, UTMB® World Series gives all trail runners the chance to experience the UTMB® adventure across the world, with events taking place across Asia, Oceania, Europe, Africa and the Americas. It is the only place where runners can begin their quest to UTMB® Mont-Blanc, France, where the prestigious UTMB® World Series Finals will be held. For more information, visit www.utmb.world.
About UTMB Group
Over the last 18 years, and since the creation of UTMB® Mont-Blanc in 2003 by a group of passionate friends, UTMB Group has been the driving force behind the development of trail running. The UTMB® Mont-Blanc is the sports pinnacle event, and every year, 10,000 runners earn their place on the start line. UTMB Group also pioneered the LiveTrail® technology, an innovative digital service that supports the management of endurance races. Revered by hundreds of thousands of athletes, UTMB® has become a global, premium, and leading brand. In May 2021, UTMB Group partnered with The IRONMAN Group to launch the UTMB® World Series, which brings together many of the best international events on the planet to provide exclusive access to the sport's pinnacle event, UTMB® Mont-Blanc. The UTMB® World Series is built on the founding principles of UTMB® Mont-Blanc: surpassing oneself; fair-play; respect for people and the environment; and solidarity. Find out more at www.utmb.world.
About The IRONMAN Group
The IRONMAN Group operates a global portfolio of events that includes the IRONMAN® Triathlon Series, the IRONMAN® 70.3® Triathlon Series, 5150™ Triathlon Series, the Rock 'n' Roll® Running Series, IRONKIDS®, World Triathlon Championship Series, premier running events including the Standard Chartered Singapore Marathon™ and City2Surf®, UTMB® World Series events including the Canyons Endurance Runs, Tarawera Ultra and Ultra-Trail Australia™, Epic Series™ mountain bike races including the Absa Cape Epic®, road cycling events including Haute Route®, and other multisport races. The IRONMAN Group is the largest operator of mass participation sports in the world and provides more than a million participants annually the benefits of endurance sports through the company's vast offerings. Catering to the full athlete experience, the company portfolio also includes FulGaz® virtual cycling, the most realistic indoor riding experience connected fitness application aimed at preparing athletes for real-world events. Since the inception of the iconic IRONMAN® brand and its first event in 1978, athletes have proven that ANYTHING IS POSSIBLE® by crossing finish lines around the world. Beginning as a single race, The IRONMAN Group has grown to become a global sensation with hundreds of events across 55+ countries. The IRONMAN Group is owned by Advance, a private, family-owned business. For more information, visit www.ironman.com/about-ironman-group.