Garmin Partner With Super League Triathlon To Deliver Deeper Insights At Arena Games Triathlon powered by Zwift World Championship Series
April 1, 2022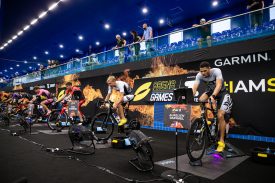 /ENDURANCE SPORTSWIRE/ – Garmin will help deliver even more insights into the action at the Arena Games Triathlon powered by Zwift in 2022.
Super League Triathlon today announced that the Garmin ecosystem will again play a vital role in delivering multisport's most innovative race series, the Arena Games Triathlon powered by Zwift which will crown the first-ever triathlon esports World Champions.
The real-life and virtual reality blended racing provides an immersive viewing experience that allows fans to get up close and personal with the best triathletes in the world without leaving the comfort of their seat. This year's World Championship series kicks off in Munich (April 9) before heading to London (April 23) and Singapore (May 7).
Garmin will be at the heart of race day, beginning the moment the athletes first visit the venues and step on the Index S2 Smart Scale. The scale will be used to weigh the athletes before the race to ensure the correct data is given to Zwift and guarantee a fair race with watts per kg a key factor during virtual racing.
During the race, athletes will utilise the Tacx NEO 2T, an exceptionally quiet, accurate and powerful smart trainer with a road feel feature that provides a realistic indoor cycling experience and gives the world's best triathletes the best platform to shine.
In addition, the athletes will wear the HRM-Pro. The premium heart rate strap will track even more data during swimming, biking and running activities. It will also let athletes analyse their performance and help fans understand the incredible efforts of their heroes.