GallantFew, Classy, and sodisp.com partner up to bring an integrated fundraising and challenge experience for the Patriot Challenge
February 1, 2022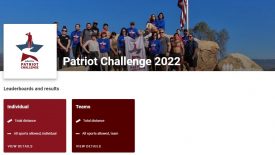 GallantFew's Patriot Challenge connects America to her veterans
Feb 1, 2022/ENDURANCE SPORTSWIRE/ – February 2022 marks the 10th year of GallantFew's Patriot Challenge, a month-long advocacy, community fitness, and fundraiser for the organization of GallantFew to provide individualized transition assistance to veterans.  In 2021, Patriot Challenge connected America to its veterans with nearly 8,000 participants from all backgrounds.
Patriot Challenge strives to separate itself from other national fundraising events through the Patriot Program Incentive for the second year in a row. PPI affords participating teams to share in the fruits of their labor. Teams of 10 or more, logging more than 565 miles and raising more than $1,000 can request to receive 50% of every penny raised after the initial $1000 for an approved military support initiative. In its inaugural year, PPI teams were able to give back more than $66,000 of the funds raised to their chosen initiatives, such as the Fisher House Foundation, the Minnesota Veterans Home in Fergus Falls, and Got Your Six Support Dogs.
Patriot Challenge continues to highlight the year that Army Ranger Cory Smith ran 565 miles from his duty station of Fort Benning, Ga, to his home in Indianapolis, IN, to raise awareness for veteran transition issues. In its 10th year, Patriots can now become a part of this journey with the collaboration Patriot Challenge has made with Classy, an online fundraising software, and sodisp.com, a fitness event platform that hosts in-person, hybrid, and virtual events.
Why did Patriot Challenge choose to collaborate?
This year GallantFew set out to streamline the user experience by collaborating with the industry-leading platform, sodisp.com. One of the individualized experiences that Patriots will have this year is the ability to move along Cory Smith's original route as they log activity.
Using the Garmin, Strava, Fitbit, MapMyRun, Polar, Suunto, and COROS integrations, owners of these devices can automatically sync their activities the moment they save them on their app/watch!
Results and leaderboards are integrated into the Classy-powered fundraising platform, allowing participants and supporters to track individuals and teams during their virtual journey along Cory Smith's original route from Fort Benning to Indianapolis.
"Classy is thrilled to partner with SODISP on this project with GallantFew to offer their supporters an intuitive way to track their mileage and provide a one-click registration experience. We're focused on meeting supporters where they're at, and working closely with our nonprofit partners to continue to add rich features." – Hannah Sarnacki, Sr. Customer Success Manager at Classy.
How can Patriots find their way 'home'?
Patriot Challenge affords participants the ability to log their efforts online through various activities. Individuals can walk, bike, hike, row, lift weights, complete Crossfit workouts, or even do yoga. If you can move, you can be a Patriot.
"In the end, we want our Patriots in communities across America to get fit and raise funds to benefit their veterans. Every 15 minutes of activity, such as playing a sport or working out in the gym, counts as a mile. We want to be as inclusive as possible for the good of the veteran community," Patriot Challenge Director, Candice Christian, said.
Since GallantFew's inception in 2010, it has provided more than 13,000 documented services to nearly 10,000 veterans and active-duty military members. GallantFew is the 'WHY,' and Patriot Challenge is the 'HOW.'
You can #BeAPatriot by registering for Patriot Challenge at www.patriotchallenge.org. Learn more on the Classy giving platform at classy.org and the sodisp.com challenge and results platform at sodisp.com.