Gaffuri and Reinert win GFNY Cannes
March 29, 2023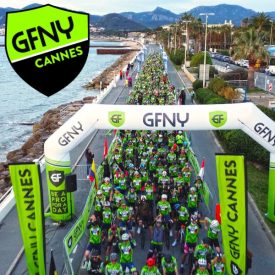 The glam city of Cannes launched a packed GFNY France season
New York City, March 29, 2023 /ENDURANCE SPORTSWIRE/ – Cannes hosted the second edition of GFNY Cannes this past Sunday. The racecourse was 111.3 km with 2013m of climbing, including Col du Tanneron and Col d'Avaye.
GFNY Cannes started off at La Bocca beach with over 600 riders. Col du Tanneron was the first obstacle of the day and it split the peloton into groups with the lead group consisting of nine riders including: defending champion and neo-pro with Baloise – Trek Lions Olivier Godfroid (Belgium); 2022 GFNY Lourdes Tourmalet champion and 3rd in Cannes last year Julien Berard (France); GFNY World Championship NYC runner-up Mattia Gaffuri (Italy) and ex-Cofidis pro Stéphane Rosetto (France).
With 30k to go, Gaffuri put in an attack and went for a solo breakaway, extending his lead up to two minutes. Berard, Rosetto, Godfroid and Mathis Lauras (France), who were in the chase group, tried their best to close the gap. During the descent of Col d'Avaye, Godfroid crashed hard. He continued but was badly bruised and out of contention. The chasers came as close as a few bike lengths to Gaffuri but never closed the gap because they couldn't agree on working together.
Gaffuri took the win in 2:58:56, followed by Antoine Magaud (France) and Berard who completed the podium.
In the female race, Delphine Reinert took the win in 3:40:48, 3 minutes ahead of Céline Le Pecheur and Céline Bourbousson who rounded out the all french podium.
Next up on the GFNY calendar is the seventh edition of GFNY Bogota which will take place Sunday, April 30, 2023.
About GFNY Global Endurance Sports Series
GFNY Global Endurance Sports Series is a sports event company with three decades of experience in racing, planning and organizing events. The global endurance sports brand hosts multiple events throughout the year around the world on five continents.
Working with partners around the world to deliver a first-class experience, GFNY Global Endurance Sports Series puts its athletes first.
Cycling
30-plus events held around the world. View the latest calendar here
Riders get to BE A PRO FOR A DAY ® by competing against others, themselves and the clock in a personal endurance challenge.
Top 10% (20% at regional championships) of finishers in each age group qualify for the Elite Qualifier Corral at every GFNY World event.
GFNY World Championship NYC
The 11th annual GFNY World Championship New York will be held on May 21, 2023. The race features the world's most international peloton with riders from over 90 countries. Athletes take on a challenging route to compete against each other, the clock and themselves in a personal endurance challenge.
The official GFNY website is: www.gfny.com.
Further Material for Media Use
Official GFNY Cannes video: here
GFNY Press Images: here
GFNY Results: here
GFNY World calendar graphic: here
Previous GFNY press releases: here
Media Contact
Gran Fondo New York Inc.
Uli Fluhme, uli@gfny.com
Caroline Lindsay, caroline@gfny.com