FulGaz expands User Experience with New Enhancements
November 3, 2022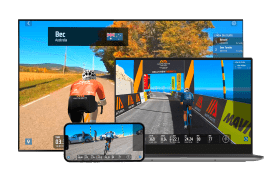 Subscribers now able to create their own avatar and toggle to view others; 60+ IRONMAN and IRONMAN 70.3, Haute Route, and Epic Series virtual courses now available in the indoor cycling app virtual portfolio; Avatar-enabled routes include the 2022 VinFast IRONMAN World Championship, 2022 Intermountain Healthcare IRONMAN 70.3 World Championship presented by Utah Sports Commission, Haute Route Ventoux, 2022 Wollongong UCI Road World Championships, and the prologue of the Absa Cape Epic course
TAMPA, Fla. / MELBOURNE, Australia (November 3, 2022) /ENDURANCE SPORTSWIRE/ – FulGaz®, The IRONMAN Group's cutting-edge indoor virtual cycling app, has released new enhancements to expand the user experience, including the launch of avatars and numerous new courses from IRONMAN® and IRONMAN® 70.3® Triathlon Series, Haute Route, and Epic Series events from around the globe. The enhancements mark the next milestone in FulGaz's goal of delivering enhanced services to athletes throughout their athletic journey and helping to ensure they have the best in-person event experience possible, by training on the courses in which they plan to compete.
In celebration of the updates and added routes, FulGaz will now provide athletes who register for an IRONMAN or IRONMAN 70.3 event with an extended free trial, allowing them to better prepare for their event and ride courses from around the world before ever getting onsite for race day.
"We are thrilled to launch avatars on FulGaz," said Mike Clucas, founder of FulGaz and Vice President of Digital Sports for The IRONMAN Group. "Since joining The IRONMAN Group, FulGaz has continued to pride itself on the quality of our rides and its community. The introduction of avatars add to the user experience and offer the best indoor riding experience. With more high-quality digital IRONMAN and IRONMAN 70.3 courses available than ever before, subscribers will enjoy a world-class one-of-a-kind experience when they ride with FulGaz."
Available now, FulGaz subscribers can personalize their avatar and utilize it on select courses. Users can customize their avatar's gender, skin tone, apparel, and equipment and will also be able to toggle their in-ride view to see their own and others' avatars. Initially available on iOS, Mac, AppleTV, and Windows, avatars will become available on Android in the future.
The team worked with world-class graphic artists, top-level riders, and developers to create the best and most realistic indoor training experience possible. Avatars are currently enabled on courses including the famous Mont Ventoux climb, California's Potrero Road, IRONMAN 70.3 Geelong, IRONMAN 70.3 Melbourne in Australia, the 2022 VinFast IRONMAN World Championship race in Kailua-Kona, Hawai'i, and more.
FulGaz continues to expand its virtual course offering with 60+ complete IRONMAN and IRONMAN 70.3 bike courses now on the platform. With new courses continually added, subscribers now have the opportunity to ride iconic IRONMAN and IRONMAN 70.3 bike courses from around the world, such as the 2022 VinFast IRONMAN World Championship, GWM IRONMAN 70.3 Melbourne, Biostarks IRONMAN Arizona (part of the VinFast IRONMAN U.S. Series), IRONMAN 70.3 Tasmania, and IRONMAN 70.3 Acapulco presented by Mundo Imperial, among many others, from the comfort of their own home.
In addition to IRONMAN and IRONMAN 70.3 courses, riders can also test themselves on a range of other courses, including France's famous Mount Ventoux, which is now a part of the FulGaz platform. All three sides of Mount Ventoux are available in FulGaz and avatar enabled, following a partnership with Haute Route. Any new athletes that register for a 2023 Haute Route® event will receive a complimentary annual subscription to FulGaz. FulGaz has teamed up with leading coaches, including former professional cyclist Brad McGee and the Haute Route team, to provide exclusive training content on the platform to enable riders to tackle their race day successfully.
Also, subscribers can now ride the 2022 Wollongong UCI Road World Championships courses and the prologue of the Absa Cape Epic® course on FulGaz. More Epic prologues will be added in the coming months.
FulGaz's new enhancements add to the platform's unprecedented realistic outdoor experience offering cyclists the ability to train and compete indoors through cutting-edge technology and 4K video content. In the coming months, subscribers will continue to see exclusive new content added regularly, expanding the FulGaz virtual events portfolio. The app enables users to discover real-life event courses before they challenge themselves on race day, making the FulGaz platform the ideal training tool for real-world event preparation year-round.
For more details on FulGaz and its catalog of virtual cycling courses and enhancements, visit www.fulgaz.com.
For more information on The IRONMAN Group portfolio of brands and events, visit www.ironman.com/about-ironman-group. Media related inquiries may be directed to press@ironman.com.
###
Founded in 2014 by Mike Clucas in Melbourne, Australia, FulGaz® aims to bring the most realistic riding experience to life via its app and its collection of over 1500 routes, including official IRONMAN® courses. FulGaz is all about the joy of riding outside and aims to be the closest thing to travelling and riding in real locations around the world. When you use FulGaz, the experience is all about being immersed in the location in real life, with the app getting in the way as little as possible. All you need to do is get on your bike and enjoy the ride. For more details on FulGaz and its catalog of virtual cycling courses, visit www.fulgaz.com.
About The IRONMAN Group
The IRONMAN Group operates a global portfolio of events that includes the IRONMAN® Triathlon Series, the IRONMAN® 70.3® Triathlon Series, the IRONMAN® Virtual Racing™ (VR™) Series, 5150™ Triathlon Series, the Rock 'n' Roll® Running Series, the Rock 'n' Roll Virtual Running™ Series, IRONKIDS®, World Triathlon Championship Series, premier running events including the Standard Chartered Singapore Marathon™ and City2Surf®, UTMB® World Series events including Tarawera Ultra and Ultra-Trail Australia™, Epic Series™ mountain bike races including the Absa Cape Epic®, road cycling events including Haute Route®, and other multisport races. The IRONMAN Group is the largest operator of mass participation sports in the world and provides more than a million participants annually the benefits of endurance sports through the company's vast offerings. Catering to the full athlete experience, the company portfolio also includes FulGaz® virtual cycling, the most realistic indoor riding experience connected fitness application aimed at preparing athletes for real-world events. Since the inception of the iconic IRONMAN® brand and its first event in 1978, athletes have proven that ANYTHING IS POSSIBLE® by crossing finish lines around the world. Beginning as a single race, The IRONMAN Group has grown to become a global sensation with hundreds of events across 55+ countries. The IRONMAN Group is owned by Advance, a private, family-owned business. For more information, visit www.ironman.com/about-ironman-group.
About Advance
Advance is a private, family-held business that owns and invests in companies across media, entertainment, technology, communications, education and other promising growth sectors. Our mission is to build the value of our companies over the long-term by fostering growth and innovation. Advance's portfolio includes Condé Nast, Advance Local, Stage Entertainment, The IRONMAN Group, American City Business Journals, Leaders Group, Turnitin, 1010data and Pop. Together these operating companies employ more than 17,000 people in 29 countries. Advance is also among the largest shareholders in Charter Communications, Warner Bros. Discovery and Reddit. For more information visit www.advance.com.