France's Sam Laidlow Captures First IRONMAN World Championship Title on Home Soil At 2023 Vinfast IRONMAN World Championship in Nice, France
September 10, 2023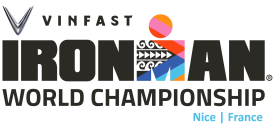 - Germany's Patrick Lange and Denmark's Magnus Ditlev take second and third spots on the podium in the first VinFast IRONMAN World Championship triathlon held in Europe - Laidlow becomes youngest winner of the VinFast IRONMAN World Championship and first Frenchman to earn the coveted title after a second place IRONMAN World Championship finish in 2022
NICE, France (Sept. 10, 2023) /ENDURANCE SPORTSWIRE/ – History was made on Côte de Azur today, as the first-ever VinFast IRONMAN World Championship to take place in Europe unfolded in Nice, France. It was Sam Laidlow, racing for France, who enjoyed a dominant victory on home soil. Laidlow used a 47:50 swim, a race-best 4:31:28 bike, and a strong 2:41:46 run to improve on his runner-up performance in Kona last year to become the youngest winner of the IRONMAN World Championship in the events 40+ year history.
The professional men set out on the two-lap, non-wetsuit swim held in the azure blue water of the Mediterranean Sea with calm conditions. It wasn't long before the field split up into two packs. Braden Currie (NZL) lead the first group, but Sam Laidlow (FRA) got to the front at the first turn and put the pressure on. The leading pack consisted of 10 athletes, German Jan Frodeno soon showed his motivation to not get left behind and chased Laidlow and Gregory Barnaby (ITA) swimming side by side with Currie.
The chase group was about 10 to 15 meters behind, with Pieter Heemeryck (BEL), Cameron Wurf (AUS) and Kristian Hogenhaug (DNK) in the front. After the 3.8 km swim, the first out of the water was Matthew Marquard (USA) in 47:46 who closed the gap from behind. He left the water shoulder to shoulder with Currie and Frodeno in second position.
Marquardt had a quick transition and was first onto the bike course, followed by Niek Heldoorn (NLD) who quickly took over the lead. On the flat, opening kilometers of the bike course, Laidlow powered to the front, looking strong when chasing Heldoorn on the first climb. Braden Currie (NLZ), Jan Frodeno (DEU), Marquardt and Rudy von Berg (USA)—a half-local who grew up in Cannes and is very familiar with the tough bike course—put the chase on. At 12 km, Clement Mignon (FRA) made an aggressive move to the front and took over the lead. As this course is said to be his training ground, he was in a confident position. But on a course with so many variables, strategy was at play: One move was made by Laidlow as he rode by Mignon. The two locals had some exchanges in the lead on the most challenging part of the course.
The two French athletes built their gap to the chase group and at 27 km there was already a one-minute deficit. Currie, Weiss, Barnaby, von Berg and Frodeno tried to keep up, but the gap only got bigger at this very early stage in the race. von Berg also showed that the local knowledge was very powerful, nevertheless, Weiss came up only shortly after him.
After finishing the steepest climbs Mignon led the race, but both he and Laidlow seemed to be very aggressive. The gap between them and Ditlev, von Berg and Weiss was now over two minutes.
Laidlow, who is said to be a strong technical rider, pushed hard and showed his strengths, eventually outpacing Mignon, who fell back more and more. von Berg, Ditlev and Wurf in the chase pack saw the gap grow constantly with five minutes at 130 km.
Laidlow put on an impressive performance on the challenging bike course, with a remarkable 4:31:28 bike split. His chasers came into transition with a huge gap: Rudy von Berg at 5:16 down, Magnus Ditlev at 5:53, Cameron Wurf at 7:17, and Léon Chevalier at 11:05.
At the beginning of the marathon, the head and tail winds on the four-loop course along the Promenade des Anglais were very demanding, and the temperatures were heating up as did the race itself. Laidlow started the run strong with a head start of more than five minutes. He demonstrated a fluid style, despite overcoming recent injuries and COVID just three weeks ago.
At 3.5 km, Ditlev ran past von Berg and stayed in second position, but von Berg began to fall back kilometer by kilometer. There was big focus on former world champion, Patrick Lange (DEU) who started the run with an almost 13-minute deficit. While Laidlow ran very smoothly, Lange started to increase his pace. At 15 km he'd run into fourth position, but still with a 10-minute gap to Laidlow. He flew by von Berg at 28 km and it became clear that he would take over Ditlev's position as well. At 34 km, the race got a new second position when Lange caught Ditlev.
Laidlow stayed focused and no one was able to catch him. The 24-year-old athlete soared across the VinFast IRONMAN World Championship finish line in 8:06:22.
Lange finished second at 8:10:17 with an incredible run split of 2:32:41 the fastest ever in the IRONMAN World Championship. Magnus Ditlev completed the podium in 8:41:07 with von Berg taking fourth and Léon Chevalier, earning fifth.
Laidlow said that he had dreamed of this moment his whole life: "I am so grateful. It was a long season. Sometimes it's just the least you expect. Today I just had great legs. There has never been a French World Champion and I hope that I will be just one of many."
Lange stated that he was happy with his race as well: "It would have taken a miracle to catch this guy [Laidlow]," he said.
Ditlev commented: "I am super proud of the way I fought. I kept staying positive, it was such a hard day, so I am super proud that I have made it to the podium."
Top five professional men's results:
| | | | | | |
| --- | --- | --- | --- | --- | --- |
| | | SWIM | BIKE | RUN | FINISH |
| 1. Sam Laidlow | FRA | 00:47:50 | 04:31:28 | 02:41:46 | 08:06:22 |
| 2. Patrick Lange | DEU | 00:49:01 | 04:43:24 | 02:32:41 | 08:10:17 |
| 3. Magnus Ditlev | DNK | 00:49:14 | 04:35:52 | 02:41:07 | 08:11:43 |
| 4.Rudy von Berg | USA | 00:47:50 | 04:37:23 | 02:42:44 | 08:12:57 |
| 5. Léon Chevalier | FRA | 00:51:11 | 04:39:30 | 02:39:26 | 08:15:07 |
Full results for the 2023 VinFast IRONMAN World Championship triathlon can be found at www.ironman.com/im-world-championship-nice-results.
For additional event information, please visit www.ironman.com/im-world-championship-nice. Media inquiries may be directed to press@ironman.com.
###
About the IRONMAN World Championship
Since its inception in 1978 on the Island of O`ahu, the IRONMAN World Championship has etched its name in history through stellar performances, inspirational participants and emotional memories. In 1981, the race moved from the tranquil shores of Waikīkī to the barren lava fields of Kona on the Island of Hawai`i. The most iconic one-day sporting event in the world is the culmination of 40 global IRONMAN events with over 94,000 athletes around the world striving for one of the coveted qualifying slots. The 2021 edition of the event took place in St. George, Utah in May 2022, becoming the first location to host the event outside of Hawai`i since its origins in 1978. After a two-year hiatus from Hawai`i due to COVID, the race returned to Kailua-Kona and for the first time took place as a two-day event in October. The 2023 VinFast IRONMAN World Championship will see the event continue with the two-day format but with two different host locations (Nice, France and Kailua-Kona, Hawai`i) and dates, to allow for a dedicated world championship race for women and dedicated world championship race for men. With two days of racing, the cumulative event will host approximately 5,000 athletes as they embark on a 140.6-mile journey that presents the ultimate test of body, mind, and spirit to earn the title of IRONMAN World Champion. For more information, visit www.ironman.com/im-world-championship.
About The IRONMAN Group
The IRONMAN Group operates a global portfolio of events that includes the IRONMAN® Triathlon Series, the IRONMAN® 70.3® Triathlon Series, 5150™ Triathlon Series, the Rock 'n' Roll® Running Series, IRONKIDS®, World Triathlon Championship Series, premier running events including the Standard Chartered Singapore Marathon™ and City2Surf®, UTMB® World Series trail-running events including the Canyons Endurance Runs™ by UTMB®, Tarawera Ultra by UTMB® and Ultra-Trail Australia™ by UTMB®, Epic Series™ mountain bike races including the Absa Cape Epic®, road cycling events including Haute Route®, and other multisport races. The IRONMAN Group is the largest operator of mass participation sports in the world and provides more than a million participants annually the benefits of endurance sports through the company's vast offerings. Catering to the full athlete experience, the company portfolio also includes FulGaz® virtual cycling, the most realistic indoor riding experience connected fitness application aimed at preparing athletes for real-world events. Since the inception of the iconic IRONMAN® brand and its first event in 1978, athletes have proven that ANYTHING IS POSSIBLE® by crossing finish lines around the world. Beginning as a single race, The IRONMAN Group has grown to become a global sensation with hundreds of events across 55+ countries. The IRONMAN Group is owned by Advance, a private, family-owned business, and Orkila Capital, a growth equity firm focused on building great brands. For more information, visit www.ironman.com/about-ironman-group.
About Advance 
Advance is a private, family-held business that owns and invests in companies across media, entertainment, technology, communications, education and other promising growth sectors. Our mission is to build the value of our companies over the long-term by fostering growth and innovation. Advance's portfolio includes Condé Nast, Advance Local, Stage Entertainment, The IRONMAN Group, American City Business Journals, Leaders Group, Turnitin, and Pop. Together these operating companies employ more than 17,000 people in 29 countries. Advance is also among the largest shareholders in Charter Communications, Warner Bros. Discovery and Reddit. For more information visit www.advance.com.