Fly over the trails with Vittoria's Air-Liner Light
April 21, 2023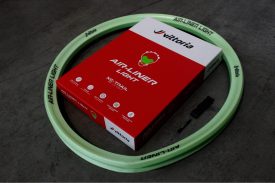 Introducing the NEW superlight and superfast MTB insert for all tubeless XC & Trail tires that enhances suspension and provides run-flat riding abilities.
/ENDURANCE SPORTSWIRE/ – Vittoria's Air-Liner Light is a revolutionary new insert for tubeless mountain bike tires, designed to enhance the performance and capabilities of the wheel-tire system in Cross-Country, Down-Country, and Trail applications.
Building on the success of the Air-Liner MTB tire inserts, Vittoria has worked closely with riders and mechanics from top teams including BMC MTB Racing, Santa Cruz FSA, and KTM-Vittoria to develop Air-Liner Light. This new generation of MTB inserts is incredibly light and provides speed, protection, and run-flat performance.
Superlight and superfast
Air-Liner Light is the lightest and fastest insert for tubeless MTB tires currently available on the market, weighing in at just 50g. Its shape is designed to fit perfectly with rim channels between 25mm and 30mm wide, ensuring that the insert remains securely fastened to the rim without adding any additional rotating mass inside the tire, which keeps bike handling agile and fast.
Enhanced suspension characteristics
As the only point of contact between the rider, the bike, and the ground, the tire plays a crucial role in absorbing impacts while riding off-road. The insert allows for the progressive compression is so effective that the rider won't realize when the insert is working. The unique foam of the Air-Liner Light provides a "limitless travel" feeling to the tire compression which increases comfort, grip, and speed.
Run-flat performance
If your tire experiences a puncture and loses air, Air-Liner Light provides exceptional support by expanding within the tire. The foam material has open cells that can maintain their own air pressure and release it when the tire loses air, which makes it possible for you to ride with a flat tire. Additionally, this insert is compatible with sealants and has a tough, waterproof coating to prevent cuts and sealant absorption. Thanks to its advanced technology, Air-Liner Light can effectively get you home or help you cross the finish line during races.
Protection and lateral stability
Air-Liner Light maximizes puncture protection for your tires. Its innovative foam material delivers exceptional shock absorption, shielding your tires from punctures due to impacts with rim walls (often called snake bites). Moreover, the insert helps increase lateral stability when navigating corners, preventing tire burping. The Air-Liner Light allows you to take on the most extreme corners with speed and confidence.
Air-Liner Light specifications
The Air-Liner Light is a single loop that weighs only 50g and is featured in the iconic Air-Liner green color from Vittoria. This insert is compatible with a range of mountain bike tire sizes, including 29"x2.1" up to 29"x2.4", and rim channels measuring 25mm up to 30mm wide. Air-Liner Light also works seamlessly with any type of liquid sealant, ensuring that your tires remain well-protected. The insert must be used with tubeless tires and multiway tubeless valves only. The package comes with one insert and one Vittoria Green Multiway Tubeless valve measuring 40mm in length, making installation a breeze.
MSRP: $59.99
Vittoria Press Office
Oriol Brull
+1 (914) 374-6246
o.brull@vittoria.com