Fitness apps WHOOP and Today's Plan integrate for athletes and coaches to unlock their potential through greater insights
March 3, 2023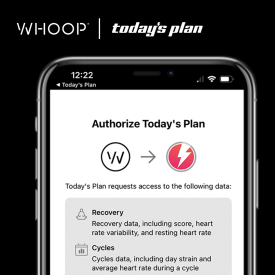 /ENDURANCE SPORTSWIRE/ – Endurance sport technology platform, Today's Plan and the human performance company, WHOOP are excited to announce an integration between the two platforms. This partnership will offer new opportunities for athletes and coaches to unlock their potential through greater insights. Athletes can now sync their WHOOP data to Today's Plan, including Recovery, sleep performance, and other biometric data like HRV. This data can be overlaid with workouts and activity data on Today's Plan to identify trends in performance to ensure every athlete can unlock their potential through more informed Recovery.
Today's Plan is one of the most advanced training and analytics platforms for endurance athletes, coaches, and organizations. The flexibility of the platform allows athletes to join coaching groups and communities across a range of endurance sports, with products offered to all levels of athletes. Importantly, people can choose from a variety of services depending on their desired level of interaction with a coach or community leader. Team EF Coaching is one business seeking to offer a unique range of products and services for athletes.
Find out more about Team EF Coaching.
Team EF Coaching offers unprecedented access to WorldTour cycling knowledge across training, nutrition and technique. Their goal is to make this accessible to all levels of athletes, no matter if you are seeking to become a WorldTour professional or simply want a community of like-minded people to engage with and pursue a healthier you.
Team EF Coaching utilizes both Today's Plan and WHOOP to deliver for their community of athletes, particularly now with a stronger integration between the two platforms.
"We trust Today's Plan to provide the most accurate data from our athlete's workouts. Integrating WHOOP data into the dashboard that we use every day simplifies how we analyze our athletes' sleep and day-to-day wellness. WHOOP data helps us avoid setbacks and be more consistent with our athlete's progress. Now it's even easier to stay on track." said Zack Morris, Director of Team EF Coaching
About Today's Plan
Today's Plan is a leading software technology business that produces online training tools for endurance athletes and coaches across web, mobile and wearable platforms. Today's Plan also works with several global sporting brands to create unique digital solutions for their businesses.
About WHOOP
WHOOP, the human performance company, offers a wearable health and fitness coach to help people achieve their goals. The WHOOP membership provides best-in-class wearable technology, actionable feedback, and recommendations across recovery, sleep, training, and health. WHOOP serves professional athletes, Fortune 500 CEOs, executives, fitness enthusiasts, military personnel, frontline workers, and anyone looking to improve their performance. WHOOP Unite is a comprehensive solution dedicated to supporting organizations across a wide range of industries with coaching, organizational insights, and health programs. Studies show WHOOP can positively change behavior, increase sleep, and improve physiological biomarkers. Founded in 2012, WHOOP is based in Boston and has raised more than $400 million in venture capital. The latest round of financing made WHOOP the world's most valuable standalone wearables company. Visit whoop.com for more information and connect with WHOOP on Instagram, Twitter, Facebook, LinkedIn, and YouTube.