Filippo Ganna Smashes Cycling's Famed Hour Record Riding World-First Pinarello Custom 3D Printed Bike
October 10, 2022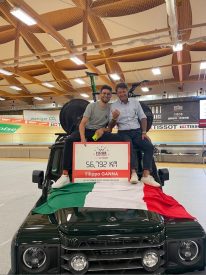 Solana Beach, CA. (Oct. 10, 2022) /ENDURANCE SPORTSWIRE/ – On Saturday, Filippo Ganna, 26, an Italian track and road cyclist who rides for the Ineos Grenadiers team, recorded the longest distance ever ridden in one hour at the Tissot Velodrome in Grenchen, Switzerland. Ganna rode 56.792 kilometers (35.288 miles) on a fully 3D-printed Pinarello Bolide F HR 3D track bike made of an aerospace scandium alloy, designed with humpback whale biomimicry.
"Today to arrive at this amazing goal is fantastic for me, and for all the staff who have worked for a long time to arrive at this result," Ganna said.
"I'm proud of the support and innovation we were able to provide Filippo in creating the bike for this incredible new record," said Fausto Pinarello, Pinarello's Chairman of the Board of Directors. "This is the fourth time in history the hour record has been set on a Pinarello bicycle, an achievement no other brand can claim."
Riding in a low aerodynamic position despite his six-foot, four-inch height, Ganna went considerably further than previous hour record holder Dan Bigham, who set the official UCI Hour Record timed by Tissot of 55.548 kilometers in August at the Grenchen velodrome. Bigham is a performance engineer at Ineos Grenadiers, and he advised Ganna on how best to beat his record.
Ganna also surpassed the 56.375 kilometers recorded by Chris Boardman riding a non-UCI-approved bike in the since-banned Superman position in 1996, thus unifying the hour records.
The first widely accepted hour record was set in 1876 when the American Frank Dodds rode 26.508 kilometers on a penny-farthing. Since then, dozens of cyclists ranging from unknown amateurs to well-known professionals have held the record, adding to its prestige, romance, and allure.
The Pinarello Bolide F HR 3D bicycle frame Ganna rode to break the record featured Pinarello's new AirStream technology, developed based on University of Adelaide humpback whale motion research. Humpback whales are well known for their ability to perform very tight turns as well as spectacular jumps out of the water. Researchers have found that the tubercles (the protrusions in the front of their flippers) contribute significantly to this ability. For the Bolide F HR 3D, Pinarello engineers developed and extensively tested a ridge of bumps on the frame called AeroNodes, which significantly reduced drag and minimized the turbulence created by Ganna's legs moving up and down.
3D printing Ganna's bike frame allowed for a totally perfect fit, designed around the rider, conforming to his unique anatomy to maximize both his comfort and overall aero performance. The Pinarello Bolide F HR 3D's tubes were 3D-printed from a high-strength Scandium-
Aluminum-Magnesium alloy called Scalmalloy that was developed in the aerospace industry. Created on a large-format printer, the bike frame was printed in five individual parts that were then bonded using an aerospace-grade epoxy.
"This is such a unique project; we believe it's the beginning of a new manufacturing era. The next step will be to make it more affordable by finding ways to scan riders with more affordable equipment and automatically design each unique bike. From a world champion to every World Tour rider, and eventually to each and every cyclist out there," said Federico Sbrissa, Pinarello's Chief Marketing Officer.
The Bolide F HR 3D is available for ordering at a Pinarello official retailer starting today, and due to the 3D printing production technique, it will be built only on demand.
To learn more about Pinarello please visit: Pinarello.com
About Pinarello:
Cicli Pinarello Srl is a world leader in the high-end road bicycle segment, and also offers a complete line of accessories and clothing. Pinarello products stand out on the market for being at the vanguard of technological innovation and sporting performance, with an aesthetic that is completely unique. They are dream bikes. They are marketed in over 50 countries worldwide, through a network of 700 specialized points of sale that includes four flagship stores in Treviso, London, Manchester and New York. The turnover in 2021 was €65 million, with the main markets being the United States, Italy, the United Kingdom, and Japan. Most of Europe is managed directly from Treviso, while two locally based subsidiaries manage the UK and US markets. In other countries, the company makes use of a trusted network of distributors that has been built up over decades. In total, 90 people are employed at the headquarters in Treviso, a significant portion of whom are dedicated to research and development activities, and to branding. There is also a workshop dedicated to production and assembly of the most exclusive bikes. The company also has 150 internationally based employees, and around 600 full-time staff through external partners. L Catterton, the largest private equity fund dedicated to consumer goods, has been the majority shareholder since 2018.Fausto Pinarello, the Original Partner and Chairman of the Board of Directors, serves as guardian of the brand, while also overseeing all athlete relations and supervising product development. Business direction is entrusted to Antonio Dus, the group's CEO and shareholder.
HISTORY: Pinarello was born out of one man's passion for racing. As a rider, Giovanni Pinarello was known for winning the Maglia Nera at the Giro d'Italia, but as a frame-builder his name became synonymous with the Maglia Rosa and the Maillot Jaune, with cycling's greatest champions, with victory. Some of the most iconic moments in cycling history happened on a bike bearing his name, and today Pinarello is the epitome of success, leading when others follow. Giovanni took a small shop in Treviso and changed the cycling world, pushing the boundaries, doing what others thought impossible. His objective was simple: To make the world's best bikes. And seven decades on, Fausto Pinarello continues his father's legacy the only way that Pinarello knows how – by winning. Today, Pinarello holds the record for the most amount of Tour de France victories: 15. And when you consider that we've also won the Giro d'Italia eight times and the Vuelta a España seven times, we're proud to say that with 30 grand tour victories, we are the most successful manufacturer in the history of cycling.