Fast Talk Laboratories Releases New Guide to Cold-Weather Exercise
January 5, 2022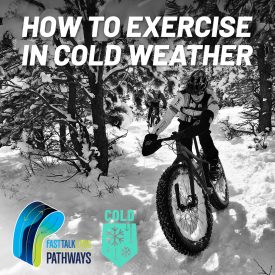 January 5, 2022 – Boulder, Colorado, USA – Fast Talk Laboratories, the fast-growing sport science and virtual training center, has released a new online education program about Exercise in the Cold just in time for North America's coldest month. In this new learning Pathway™, world-leading experts explore what happens to the body during exercise in cold temperatures, why performance suffers, and practical tips for better cool- and cold-weather exercise. See more at www.fasttalklabs.com/pathways.
Featuring Dr. Stephen Cheung, one of the world's leading environmental physiologists, as well as Dr. Iñigo San Millán, Fast Talk Labs CEO and Coach Trevor Connor, and Dr. Andy Pruitt, this Pathway offers deep dives on:
How underdressing can cause muscle damage
Why you should overdress for cold weather
How cold temps affect your performance
How cold air affects your lungs and breathing
How to optimize nutrition for differences in metabolism in cold weather
Our Canadian-approved list of cold-weather clothing and gear
Why skipping leg warmers hurts your training
How to train in cold weather
Myths about training in hot and cold temps
Pathways™ from Fast Talk Laboratories are part of our online education platform that offers a new way to explore concepts, master skills, and solve training challenges. Pathways tap world-leading experts to explore the science and practice of the endurance sports topics they know best. Athletes who complete a Pathway will know the path forward in their own training.
Fast Talk Labs releases new Pathways every month and now offers members access to 8 Pathways including: Cycling Interval Training, Basic Performance Data Analysis, Recovery, Cycling Base Training, Sports Nutrition, and more.
About Fast Talk and Fast Talk Laboratories
Fast Talk Laboratories is a new sport science and virtual training center from the creators of the Fast Talk podcast, Chris Case and Trevor Connor. Our Lab has sprung from the dynamic community of listeners and guests of the Fast Talk podcast, originally hosted by VeloNews. We tap the most engaging experts in sports, sport science, and related fields to share their knowledge and experience with our listeners and members through new media formats, live events, and coaching guidance. Fast Talk Laboratories is based in Boulder, Colorado. Learn more and join for free at www.fasttalklabs.com.
Coaching & Testing Questions: coaches@fasttalklabs.com
Media Contact: info@fasttalklabs.com
Partnerships & Sponsorships: partner@fasttalklabs.com
###