Fargo Marathon to Celebrate 20th Anniversary in Memory of Mark Knutson
November 1, 2023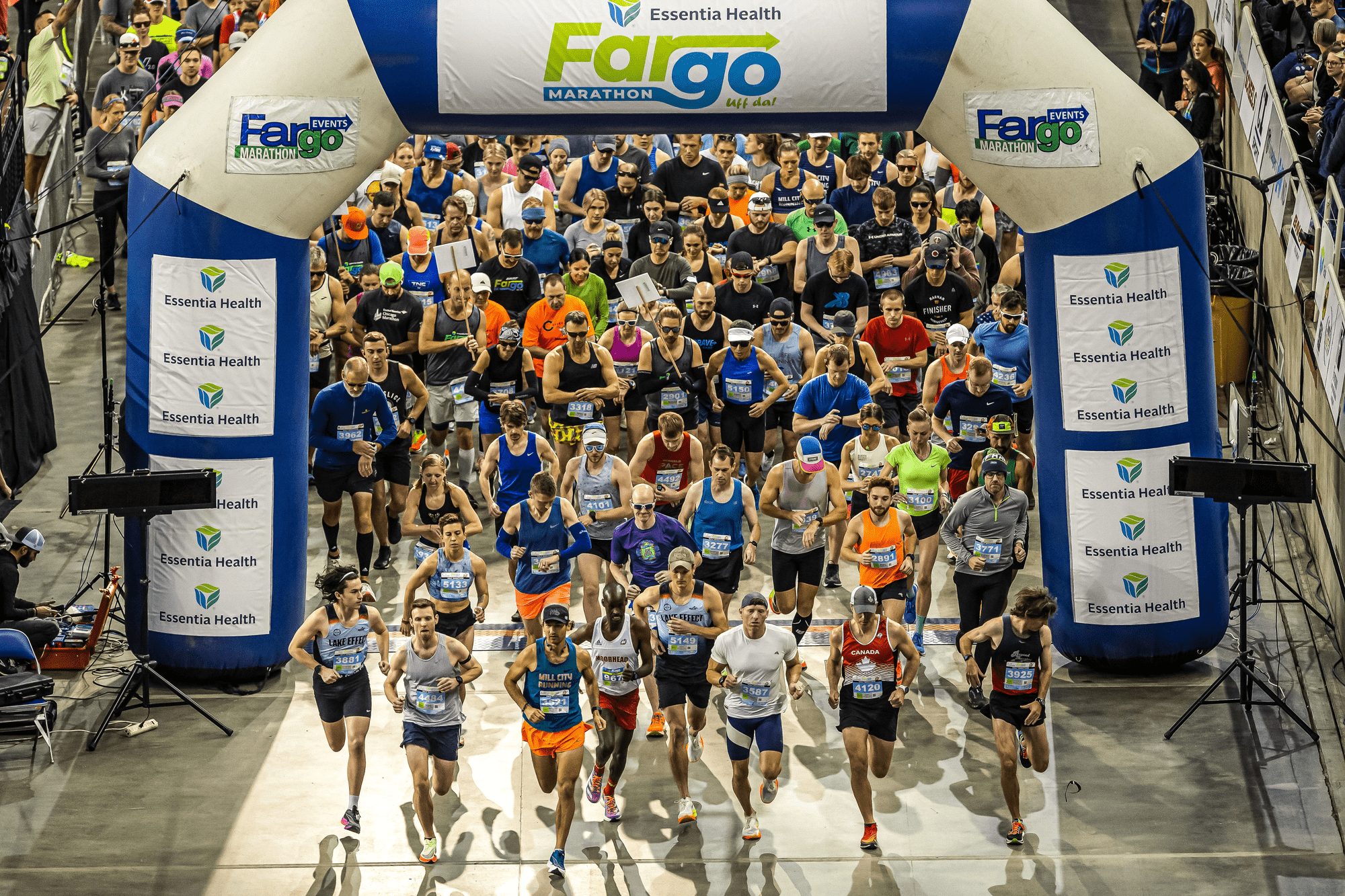 FARGO, ND – November 1, 2023 /ENDURANCE SPORTSWIRE/ – Ventures Endurance, part of Gannett (NYSE: GCI) and USA TODAY NETWORK Ventures, will celebrate the 20th anniversary of the Essentia Health Fargo Marathon, with a series of events to commemorate and honor the late race director, Mark Knutson.
Dubbed "America's Best Small-Town Race," the Fargo Marathon is an annual week-long event, attracting thousands of participants from across the United States to North Dakota. Seven total events, from the full and half marathon to a 5k, Furgo Dog Run and Cyclothon will be held from May 28 through June 1, 2024. The 2024 Fargo Marathon course is certified by USA Track and Field and is an official Boston Marathon qualifier. Runners and spectators can enjoy live bands, a town-wide cheering section, and special programming dedicated to the memory of Mark Knutson.
"We unexpectedly lost a dear friend and beloved member of our Fargo Marathon community, and we want to make sure his memory is honored as we embark on 20 years of the marathon he worked so hard to build," said Chip Hazewski, Ventures Endurance senior road races director and Essentia Health Fargo Marathon manager. "Together, we will ensure that the event continues to be a celebration of Fargo, a testament to Mark's enduring legacy, and an event that would make him proud."
Plans to honor Mark's legacy include a tribute video with photos and clips to illustrate his contributions to the community and a 5k race renamed the "Mark Knutson Friday Night 5k." A designated section of the 10k, half and full marathon will be branded as "Mark's Mile" where spectators will be directed to watch and cheer as his favorite '80s rock music plays.
Each participant's bib will have a tear off tab to make a $5 donation to Shoes for Kids, a charity Mark established aimed at supporting children across the Fargo community. Through funds raised, Shoes for Kids provides shoes to children of all ages so they can enjoy the freedom, sense of accomplishment and the physical and mental wellbeing that comes from running.
For more information about the Ventures Endurance Fargo Marathon and how to register, visit www.fargomarathon.com. The 2024 marathon is hosted by Ventures Endurance in addition to 100 events annually across the United States, attracting more than 500,000 participants with marathons, obstacle races, cycling, and themed runs.
SOCIAL MEDIA HANDLES
Instagram: https://www.instagram.com/fargo.marathon/
Facebook: https://www.facebook.com/RunFargo/
ABOUT USA TODAY NETWORK VENTURES 
USA TODAY NETWORK Ventures creates impactful consumer engagements and experiences through world-class events, promotions, races, and technology. The Ventures portfolio includes the largest high school sports recognition program in the country, USA TODAY High School Sports Awards, and other celebrated brands including the Official Community's Choice Awards, American Influencer Awards, Rugged Maniac, Hot Chocolate 15k/5k, Blockbuster Bucket List sweepstakes, Amazing Teachers contest, and more.  To learn more about USA TODAY NETWORK Ventures, please visit https://usatventures.com/.
ABOUT GANNETT
Gannett Co., Inc. (NYSE: GCI) is a subscription-led and digitally-focused media and marketing solutions company committed to empowering communities to thrive. With an unmatched reach at the national and local level, Gannett touches the lives of millions with our Pulitzer Prize-winning content, consumer experiences and benefits, and advertiser products and services. Our current portfolio of media assets includes The USA TODAY NETWORK, which includes USA TODAY, and local media organizations in 43 states in the United States, and Newsquest, a wholly-owned subsidiary operating in the United Kingdom. We also own digital marketing services companies under the brand LocaliQ, which provide a cloud-based platform of products to enable small and medium-sized businesses to accomplish their marketing goals. In addition, our portfolio includes one of the largest media-owned events businesses in the U.S., USA TODAY NETWORK Ventures.