F2C Nutrition Inks Three Year Partnership as Official Nutrition Partner of the Victoria Half and Sprint Triathlon
April 27, 2022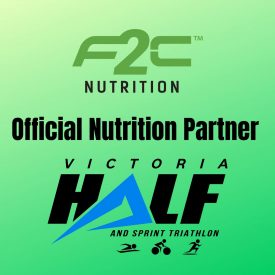 Vancouver, B.C. – April 27, 2022 /ENDURANCE SPORTSWIRE/ – F2C Nutrition is set to supply the Victoria Half and Sprint Triathlon with nutritional products made from clean, naturally sourced ingredients supported by innovative scientific research. Internationally known and recognized for quality and innovation.  F2C Nutrition was born from the vision and passion of Greg Cowan, founder and CEO who has influenced and shaped the natural health food industry over the last 30 years.
The Victoria Half and Sprint Triathlon is a classic event in Victoria, B.C. that features a Half distance, Sprint, Aqua Bike and Relay Divisions.  The event offers a grassroots traditional feel that focuses on participation, fun, affordability, and achievement.  The course features a calm one-loop lake swim at Elk Lake followed by a classic 2-loop ride through the scenic Saanich Peninsula (different bike course from the IM Victoria 70.3) and a 2-loop run on the flat soft lake trails of Elk and Beaver Lakes.  The timing of the event in mid-July is perfect as a summer goal event or preparation for IM Canada.  The event is also famous for its commemorative "hoodie" that the participants proudly sport from year to year.
"We are very pleased to be connected with the Victoria Half and Sprint, an iconic race with a beautiful venue " says F2C Nutrition CEO Greg Cowan, "Happy to support the athletes with our products and education on effective fueling for training and racing."
"F2C Nutrition is a great product that we trust out there on the race course" stated Race Director Paul Regensburg,  "We have been impressed with F2C's dedication to both the science and the athlete"
Glyco-Durance, the F2C premium race fuel and hydration product, will be at the aid station to keep all riders fueled and hydrated, along with gels.  Glyco-Durance provides a perfect balance of electrolytes, hydration and carbohydrates to keep riders performing at their best.  F2C Nutrition will also be set up at the finish line providing a recovery zone for all athletes with hydration and protein recovery drinks.
About Victoria Half and Sprint Triathlon
The Victoria Half is one of Canada's most classic and beautiful triathlon events and takes place on July 17th, 2022.  For over 25 years, athletes have been making the trek to picturesque Vancouver Island for this incredible west coast race experience.  The course features a calm one-loop lake swim at Elk Lake followed by a ride through the scenic Saanich Peninsula and a 2-loop run on the flat soft lake trails of Elk and Beaver Lakes.  The event has a rich tradition attracting the world's best triathletes along with many first-timers while also serving as National Championships, Qualifiers and Ironman 70.3.  This year the event is proud to be designated as the BC Provincial Triathlon Championships!  www.TheVictoriaHalf.com
About F2C Nutrition
F2C Nutrition is an athlete-focused, science-driven sports-nutrition company, supporting athletes by delivering premium quality, clean products. Superior nutritional products and nutrition education is key to an athlete's performance and success. F2C Nutrition products undergo stringent testing and assures athletes that every batch of our product is tested for impurities, toxins and substances considered prohibited in sport by the World Anti-Doping Agency (WADA). Learn more about F2C Nutrition Inc. at F2C Nutrition . Follow F2C Nutrition on Facebook , Twitter and Instagram