F2C Nutrition Elite Athlete Viktoria Brown Sets 72 Hour Ultrarunning World Record
February 25, 2022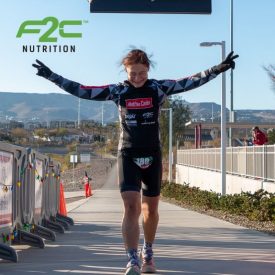 Multiple Record Holder Breaks 32 Year World Record
Vancouver, B.C. Feb 25, 2022 /ENDURANCE SPORTSWIRE/ – F2C Nutrition Inc. congratulates Viktoria Brown who set the 72-hour Ultrarunning World Record this past weekend at the Jackpot Ultra Running Festival in Henderson, NV.  The Jackpot Ultra hosted 8 different races, including the USATF 100-mile championship and various timed races. The 72-hour event was the longest, starting Friday morning at 8am and finished on Monday at 8am.
Running 464km in 72 hours is no small feat and Viktoria's finishing distance breaks a record that was held for 32 years. The previous 72-hour record belongs to Sandra Barwick of New Zealand, who set it in 1990 with a 460km effort in a race in Campbelltown, Australia.
According to Viktoria leading up to the race was challenging.  "Unfortunately, I had an injury going into the race that was just diagnosed 2 weeks prior, so I wasn't sure what I might be capable of," says Viktoria, "Originally, I was planning on aiming for this World Record."
Recounting the World Record setting event according to Viktoria the first day went very smoothly and the second day was still mostly happy running.  Short a crew person due to a cancelled flight, the remaining member of her crew stepped up and barely slept for the entire event to support.  Sock choice was also an issue leading to a lot of blisters. By day three it got tough and Viktoria had to dig deep for the last 12-13 hours.  Viktoria recalls, "For the last 12 hours it was obvious that the end will be a close call so I kept telling myself 'this is what I came for' over and over again. What happened in the 60 previous hours all won't matter if I can't pull in the last 12."
To fuel the World Record holder Viktoria used Glyco-Durance Mango, Strawberry Kiwi and Unflavoured to beat the flavour fatigue.  Supplementing with protein and electrolytes and soft carbs to round out her nutrition.
F2C is continuing to look forward to supporting Viktoria's endurance nutritional needs as she sets her sights on a host of ultra-endurance events in 2022.
About F2C Nutrition
F2C Nutrition Inc. is an athlete-focused, science-driven sports-nutrition company, supporting athletes by delivering premium quality, clean products. Superior nutritional products and nutrition education is key to an athlete's performance and success. F2C Nutrition Inc. products undergo stringent testing and assures athletes that every batch of our product is tested for impurities, toxins and substances considered prohibited in sport by the World Anti-Doping Agency (WADA). Learn more about F2C Nutrition Inc. at F2CNutrition
Follow F2C Nutrition on Strava,  Facebook, Twitter and Instagram
About Viktoria Brown
Viktoria Brown is a 46-year-old ultrarunner and triathlete who holds the Canadian 100-mile, 48 hour and 72 hour records – and now the 72 hour World Record. She lives in Whitby, ON, Canada with her husband and three young daughters.  Viktoria runs HoldTheCarbs, a company that makes keto baking mixes.  For more information about Viktoria and her ultrarunning pursuits follow her blog or find her on Facebook, Instagram and Strava.