Explore Three Countries and the Western Carpathians with Rajd Beskidy Expedition Race
March 24, 2023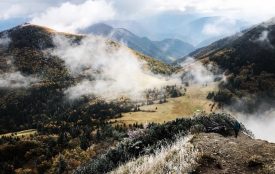 The new Rajd Beskidy, based in Poland, is an ARWS Demonstration race this year and offers the unique opportunity to race through 3 countries and 3 mountain ranges
/ENDURANCE SPORTSWIRE/ – The new Rajd Beskidy, based in Poland, is an ARWS Demonstration race this year and offers the unique opportunity to race through 3 countries and 3 mountain ranges, and up until the end of March the cost for a team of 4 is a remarkable 1700EUR.
Teams are already registered from Poland, the Czech Republic, Spain, Latvia, Germany, Sweden and Belarus, and the organisers are encouraging teams from other nations to join them.
The expedition course goes through three countries; Poland, Slovakia and the Czech Republic and will be a typical mountain expedition. The route passes through the Western Carpathians and the ranges of Little Fatra, Beskid Żywiecki and Beskid Śląski and is remote, with high pastures, ancient forest and abundant wildlife. As well as the trekking, kayak and rafting stages the organisers have included several special challenges such as downhill routes, via ferrata, rope bridges and a few more surprises.
The race HQ and finish will be at the resort of Pod Świerkami, which has spacious apartments, restaurant, cafe, outdoor swimming-pool and a spa, and impressive views of the High Tatra. The accommodation is 11EUR/day/person and organiser Magda Lekki says, "We hope most of the teams can gather in the resort and spend time together before and after the race as we want to not only make a race but a race community."
The resort is near to the city of Bielsko-Biała, where the race will start in the old town square. The town is a 2.5 hour train ride from Krakow airport and 2 hours from Katowice airport, and it has a historic old town to explore if any racers want to spend some time there.
Magda is working on contact with competitors, volunteers, media, branding, social media and other details, while her father Jerzy, is the Race Director and is setting the course and arranging maps, logistics, special tasks, TA's and security .
The father/daughter team has a sporting background perfectly suited to organising an expedition race, as Magda explains.
"My father Jerzy has been a sports enthusiast all life. He has taken part in multiple competitions in trail running, ultra running, multi-day MTB races and adventure racing, and is also a very experienced alpine climber.
"That's why my whole life has been associated with sport, from tennis and volleyball in my childhood, to ultra running and trail running when I got older. All mountain disciplines came naturally into our lives as we were born in a city surrounded by three different mountain ranges.
"Jerzy has taken part in many Polish and European adventure races, from short to expedition races and in some of them we took part together as a team. A few years ago we decided to develop adventure racing in Poland. It's easier to make a great event knowing the point of view of both competitor and organizer. Each year we organize 3 main events (including a winter race)."
The lowest entry fee of 1700EUR for the long race applies until the end of March (after which it increases to 1900EUR) and there is also a short course race of 130km/24 hours.
All of the race information is on the website at https://rajdbeskidy.pl/adventure-race-2023/ and there is a team mate finder option there as well.
(This blog tells you more about the city of Bielsko-Biała – http://www.whereintheworldistosh.com/2021/04/21/one-day-in-bielsko-biala-a-unique-polish-city-off-the-beaten-path/ )