Expedition Africa Hits New Heights in The Kingdom in the Sky
April 15, 2022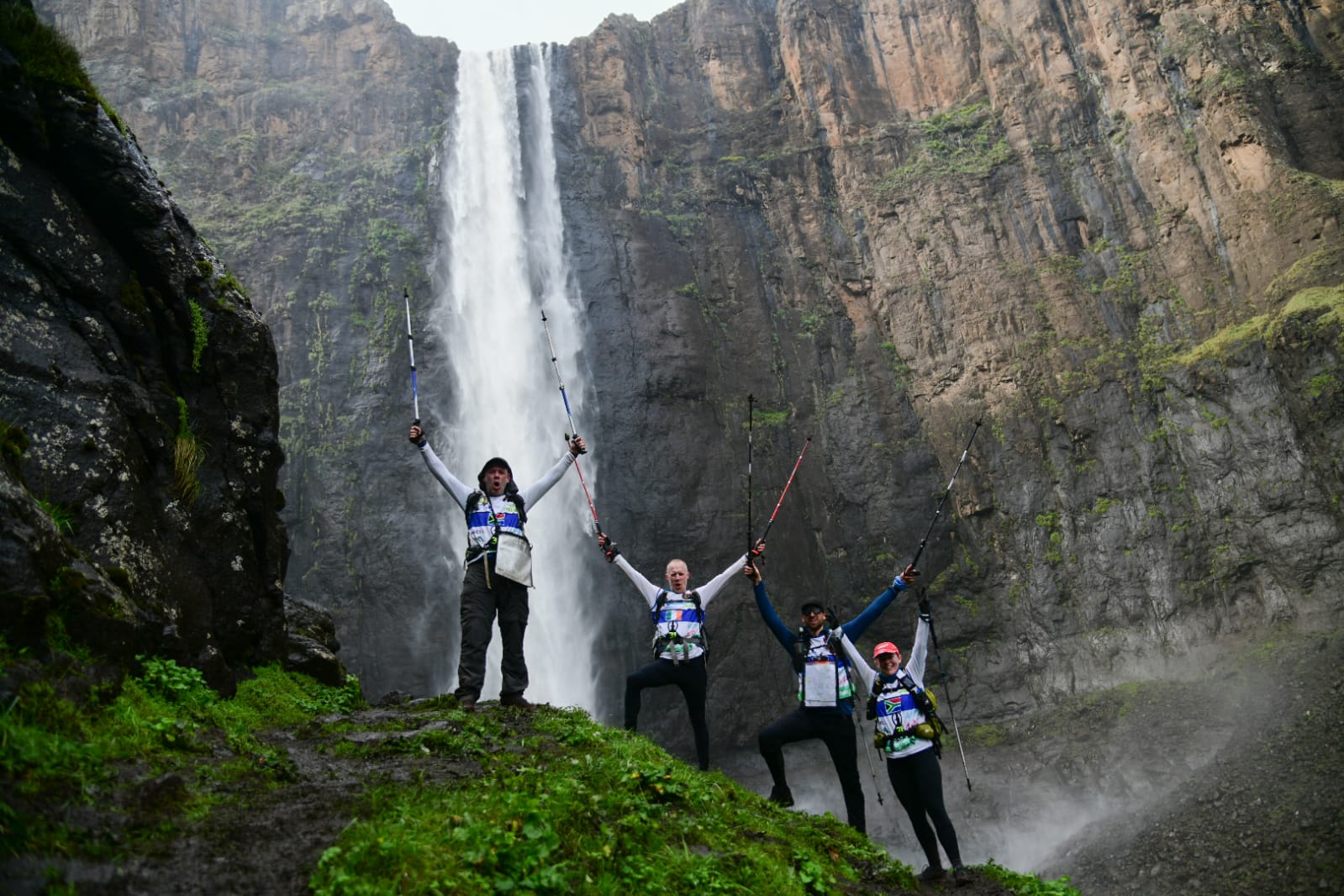 Lesotho was the setting for the second race of the 2022 Adventure Racing World Series
/ENDURANCE SPORTSWIRE/ Expedition Africa, the second race in this year's Adventure Racing World Series, visited the landlocked and mountainous African Kingdom of Lesotho, and it was a race which will go into adventure racing legend.
The week-long event took competitors from 11 countries to new levels of endurance and achievement on a 416km, non-stop journey through 'The Kingdom in the Sky'.  They experienced remote and magnificent mountain scenery, a warm and humbling welcome from the people of Lesotho, freezing and wet conditions, and they returned home after the adventure of a lifetime.
"Lesotho is like an uncut diamond", said Silver Eensaar, captain of the winning team, Estonian ACE Adventure La Sportiva.  "It has pristine nature and the people lead a simple lifestyle in a beautiful environment, which we were happy to experience for a short time."
Sebastien Raichon, captain of second placed Team400 Naturex (France), said: "The race was adventure with a capital A, where each section was a real challenge. It was a committed, technical and physical course in a sumptuous country where we received an incredible welcome.  Many teams slept with local families in the middle of the night and were welcomed like kings."
Andrea Anderson of Team thisABILITY (USA) commented, "We made our way through the most remote, wild, scenic, primitive cultures and landscapes I've ever experienced. It felt like making our way through the pages of a National Geographic magazine."  And Dewald Van Wyk of Team Addicted2Adventure (RSA) said simply; "My life will be changed forever after this amazing race, which would humble even the greatest athlete."
The journey began in the town of Semonkong with the visit of Her Majesty Queen Masenate Mohato Seeiso, who welcomed the international visitors and flagged off a special prologue, which reflected everyday life in Lesotho.  Each team was given a donkey, which is the main means of transport to supply villages in the country, and trekked with it to important local places like the market, trading store and mission, collecting supplies to carry back to the start.
It was a fun activity before teams began serious racing by climbing down to the foot of the magnificent Maletsunyane Waterfall, to find a checkpoint in the spray and roar of the single-drop 192m falls.  This was the start of a 70km trek down the Maletsunyane canyon, and it was to prove physically demanding and a navigational challenge to find a way among the rock towers, bluffs and cliffs.
Intense, unseasonal, rains fell during the night, and Raichon recalled, "The river is in flood and every crossing is epic.  We four cling together to be more stable and not get carried away. In a delicate passage, we even cling 12 together in a great moment of solidarity between teams.  Later, Sandrine (Beranger) recovers an Estonian swept away by the current with a force out of nowhere."
The rains made the following stage difficult too.  This was a 214km ride through remote mountain country, and the road became slippery and muddy, adding to the challenge, which included 6527m of climbing.   On this stage Estonian ACE Adventure La Sportiva and 400team Naturex increased their lead with the Estonians fastest, riding non-stop for 26 hours 26 minutes, and only sleeping for only 1 hour 20 minutes when they finished riding.
The slowest team was to take more than 60 hours on the cycle stage, which included two ferry crossings of the Orange River.  Most teams stopped to sleep, in small thatch roofed houses, on porches, in animal shelters or at the roadside in their bivy bags or tents. Some were taken in by families, and all of the teams had some happy moments with the children who walk many kilometres to school each day.
The slower teams had to miss out the following 49km mountain trek, which Race Director Stephan Muller said would be the most challenging of the race, especially for navigating at night.  The two leading teams completed most of it in daylight, and 400team ran hard and navigated well, hoping they had opened up a lead, but were dispirited to see the head torches of the Estonian team behind them as they arrived at the start of the paddle stage.
For much of the race to this point another Estonian team, Seiklushunt Honeypower, had been racing in third place, but they became disoriented in the night and stopped to sleep.  Anton Avri explained, "Night orienteering is not our thing so we made mistakes and decided to sleep under a clear sky full of stars. It was romantic, but very cold!"
They were passed by Team Nordisk (Denmark), who went on to finish 3rd, and Henrik Jorgensen said, "It is rare to go so long without seeing anything man made, just sometimes shepherds wrapped in their blankets watching goats on the hillside.  When a dark night with an impressive starry sky was replaced by an amazing sunrise over the mountains we took a photo.  It is the first time I have ever stopped to take a photo in a race. "
For the two lead teams it was navigation on the water which proved decisive.  The Estonians were well prepared for a cold swim, bringing an air mattress and hand paddles, and for a night paddle, with wetsuit leggings and a super-powerful torch to light up the pitch dark night ahead of their kayaks.  They were first to set off on the 45km paddle on the Katse Reservoir (the first time anyone had paddled there) and navigated faultlessly in the dark from the supplied Google map. Behind them the French team, tired and at a low point in their race, spent hours going in the wrong directions up dead-end arms of the reservoir.
All of the teams paddling at night said it was bitterly cold and they had sleep derived hallucinations and difficulty navigating in the pitch dark with no reference points.  In the daylight it was a magnificent and serene setting between the surrounding mountains.
The Estonian team maintained their strong lead on the final 53km village trekking stage, keeping their concentration while navigating, despite having slept for only 80 minutes going into the 4th day of the race.   There were no easy stages, each was a challenge which would make an elite endurance competition on its own, and this final trek took them almost 15 hours.
Estonian ACE Adventure La Sportiva crossed the finish line at the Afriski Mountain Resort (the only ski centre in Lesotho), to win the race in 80 hours 15 minutes.  "Kayaking in the dark was the most challenging," said Timmo Tammemae, "and it was an amazing and enjoyable course.  We had risky tactics, going two nights without sleep, then another night, but they worked."
His team captain Silver Eensaar reflected on their first AR World Series win, which had been a long time coming. "We have been aiming for top spot for 10 years now and it is so hard to win an ARWS race!  We know, as we have finished second 6 times I think and it is great to finally win, and at Expedition Africa, the most loved adventure race in the world."
(His team first made their mark at the first Expedition Africa in Swaziland a decade ago, and they narrowly finished second there!)
The Lesotho Edition was the 10th anniversary race for the Expedition Africa, all organised by Stephan and Heidi Muller, and one of their former team mates, Donovan Sims was on The Originals team.  All 4 team members were completing their 10th Expedition Africa, spanning a decade of competition and adventure in 4 countries.
As his friends crossed the finish line, barely able to speak from emotion and exhaustion, Stephan Muller said, "Ten races is an incredible achievement by these guys, and we never imagined we would organise 10 such races when we started out!"
Heidi Muller, who is now the CEO of the Adventure Racing World Series, said, "It is such an incredible privilege to be welcomed to Lesotho, and share it with these wonderful people, who achieve so much.  They are great, competitive athletes and at the same time so respectful of the places they see in the World Series, and of each other.  Adventure Racing is the ultimate sport, and this week in Lesotho has proved once again that there is nothing else like it and nothing better."
For more information about Expedition Africa and the complete results in Lesotho see – www.expafrica.net
The Adventure Racing World Series 2022 is made up of 10 of the world's premier Expedition Adventure Races on 5 continents. The Adventure Racing World Championship will be held in Paraguay in September.
For more information see www.arworldseries.com