EventPower's Long Island Triathlon Tour Announces i-tri as the Mighty Hamptons Steve Tarpinian Memorial Triathlon Beneficiary for 2023
May 30, 2023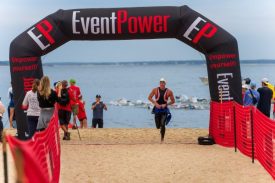 The Long Island Triathlon Tour
Sag Harbor, New York /ENDURANCE SPORTSWIRE/ – EventPower, Long Island's premiere race company will be donating proceeds from the iconic Mighty Hamptons Steve Tarpinian Memorial Triathlon, September 10th, 2023 to i-tri, an East-End based non-profit program that empowers adolescent girls through the sport of triathlon.
Located in the heart of The Hamptons, Long Island's world famous luxury beach destination and summer hotspot, The Mighty Hamptons Steve Tarpinian Memorial Triathlon is one of the the longest running Olympic Distance races in the country, entering its 43rd year in Sag Harbor Summer 2023.
"We are proud to partner with i-tri as EventPower's motto is 'empower yourself' and i-tri was created to empower young women through sport.  Triathlon helps build confidence and self-esteem while friendships are made along the way.  This year we are also adding a Super Sprint distance to expand our reach of triathletes," says Vicki Ventura, EventPower, Race Director.
The iconic Mighty Hamptons triathlon is known for its history, beauty and quality race.  It boasts a beautiful course, an empowering athlete community, and brings in competitors from long Island, the tri-state area, and beyond.  World renowned race winners include Dave Scott, Scott Tinley, Karen Smyers, TJ Tollakson and Jodie Robertson to name a few.
Triathletes start their day on the picturesque, world famous Long Beach, swimming in the calm water and protected bay, followed by a bike through rolling hills passing farms, Hamptons Classic and Polo Grounds, and Wolfer Vineyards.  Lastly, athletes run along the beach towards the Shelter Island ferry and back through the Mighty Hamptons historic finish line at the beach.
"We are so honored and excited to be working with EventPower this year! Most of our staff and coaches have competed in EventPower triathlons in the past and have a deep appreciation of the effort and care that goes into this event. Adding the Super-Sprint distance option and using the same course that our girls race in July is a great way to bring more people to the sport that we all love so much! We know that many of our i-tri parents and alums are already training," says Theresa Roden, Founder i-tri.
Participants have the option to donate to i-tri while registering for the event, and EventPower will be donating a portion of the proceeds to this amazing organization. Founded by Theresa Roden, i-tri is leveraging the power of sport to build strength, confidence and resiliency in adolescent girls. Recently featured on The Today Show and Kelly Clarkson, i-tri is a nationally recognized organization presently working with close to 200 participants from 13 partner schools from Montauk to Mastic.
For additional information, head over to www.eventpowerli.com
#####
ABOUT EVENTPOWER:
EventPower is Long Island's premier triathlon event production company. Throughout the year we hold over 14 races including the MightyMan Festival of Races, The Might Hamptons Steve Tarpinian Memorial Triathlon, CAST Mighty North Fork and the Smith Point Triathlon. We see over 5,000 athletes throughout the summer coming to our events across Long Island. Participants are of all ages and enjoy a well-organized, fun event with high energy throughout the race. Our sponsors include Athletic Brewing Company, Northwell Health, Runner's Edge, OWYN, Nutrabolt and local bike stores.
ABOUT I-TRI:
i-tri focuses on working with middle-school girls. i-tri girls learn to believe in themselves, and that can change everything. Along the journey to the finish line of a youth distance triathlon, our girls discover that they are capable, strong and brave. They make connections that show them that while they are unique, they're definitely not alone. Side by side, with new friends, i-tri girls learn to go inward to find their own strengths and to help others find theirs. i-tri girls are not triathletes. Rather, we use the sport of triathlon to give them a goal that is seemingly impossible and then we give them the physical and mental tools to achieve that goal.