Enduro Bearings to Host Daily Service Clinics at Sea Otter, Introduce Maxhit™ BB
March 30, 2022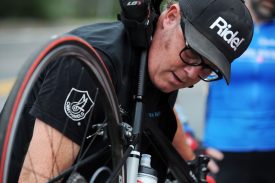 Renowned 'Wrenches' from its Mechanics Ambassador Program will demo bottom bracket and hub bearing removal/replacement at daily clinics open to public
Oakland, California (March 30, 2022)/ENDURANCE SPORTSWIRE/ – Enduro Bearings is gearing up for a big weekend at the Sea Otter Classic bike festival in early April at Laguna Seca Raceway in Monterey, California. Following the recent launch of its groundbreaking Mechanics Ambassador Program, Enduro will host live bearing removal/replacement demonstrations with some of those notable 'wrenches' at its booth at the Sea Otter expo. Visitors can also check out Enduro's range of products including the patent-pending Maxhit™ headsets and bottom brackets.
The hour-long pro mechanic clinics are open to the public and will be held at Sea Otter Booth P27, beginning at 2 p.m. on Thursday, April 7, Friday April 8 and Saturday April 9. Pro mechanics will demonstrate proper removal/installation of bottom brackets and hub bearings, using Enduro's best-in-class tools, and they'll also share other wrenching 'secrets for success'.
Featured mechanics at the clinics will include renowned professionals Dan Large, owner of XL Velo and a Volvo NRS Pro Race Mechanic, and Katie Colesberry, Giant-Liv USA's Quality Control Specialist. Adam Snyder from Stan's NoTubes will also present.
"I'm happy to participate and share my decades of knowledge in precision bicycle service," Large says. "A lot of what we do can be pretty complex and when it comes to achieving optimal rolling performance, using the correct tools and techniques to replace and accurately align bicycle bearings is a must."
"The goal of these clinics," adds Rick Sutton, Enduro's Business Development and Marketing Director, "is to provide consumers a better appreciation for the process, the need for proper tools, and to showcase the importance of proper bicycle repair performed by experienced mechanics."
Dovetailed into each session will be a 'Bearing Basics Q&A' discussing the manufacturing of high-performance, dependable bearings for the unique and varying demands of road, gravel and MTB riding. Enduro Bearings' mobile phone bags and socks, will be awarded for correct answers to session questions.
More on Maxhit: Enduro's new Maxhit Bottom Brackets, like other products in the Maxhit line, eliminate the aluminum cups in which traditional bottom bracket bearings sit, allowing for much larger diameter ball bearings riding in deeper bearing race grooves. The resulting bearings can handle twice the load of traditional bearings, which means smoother rolling, improved durability and better overall performance. Now tested beyond one-million cycles, Enduro Maxhit components include a lifetime guarantee.
For media inquiries please contact Nic Sims at SIMBOL Communications: nic@simbolpr.com
Link for hi-res images: HERE
 About Enduro Bearings: Since 1996, Enduro Bearings has worked closely with bicycle manufacturers to provide the best bearing solutions for every application. We are engineers, we are innovators, we are bike riders, and we build performance products that endure under the toughest conditions. Our facilities in the USA and Singapore supply 'Enduro Bearings Inside' technology to cyclists around the world.