Enduro Bearings Heads To Eurobike with Distributors NOW Company and COSMIC Sports to introduce two new component lines
July 7, 2022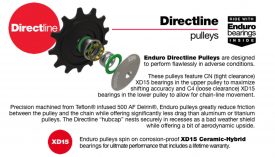 Maxhit™ and new Directline™ technologies to launch in Europe
Oakland, California (July 7, 2022) /ENDURANCE SPORTSWIRE/ – Enduro Bearings is looking forward to meeting with clients old and new at Eurobike next week, where they'll work closely with their European distribution partners NOW Company and COSMIC Sports. The event will mark the European launch of Maxhit components, already available in the US, and the global launch of Enduro's Directline™ derailleur pulleys which will be available in the fall.
Attendees will be able to work with both distributors' reps and Enduro staffers, and they'll also be able to check out the brand's wide range of bearings and components.
"We are excited to go back to Eurobike, and our continued partnerships with NOW and COSMIC make things easy for us," said Rick Sutton, Enduro's Business Development and Marketing Director. "We've significantly increased marketing support for our distribution partners, and we're well-positioned with EXTRA (UK), COSMIC (Germany) and NOW (European Union) ."
On display will be Enduro's newest product on both sides of the pond, their Directline Derailleur Pulleys. Designed to work flawlessly in all conditions, the pulleys are precision machined from Teflon®-infused 500 AF Delrin® to dramatically reduce friction. The pulleys spin on corrosion-proof XD15 Ceramic-Hybrid bearings, providing the ultimate in performance and longevity. CN (tight clearance) bearings in the upper pulley maximize shifting accuracy while C4 (loose clearance) bearings in the lower pulley promote unconstrained chain-line movement. The Directline 'hubcap' nests securely in recess acting as a bad weather shield, while the overall smooth surface resists grimy build-up and is ever-so easy to clean.
Enduro offers a range of XD15 equipped pulley sets for Shimano and SRAM 11 and 12-speed MTB, road and gravel groups. Directline is currently available for Shimano GRX and SRAM AXS 12-speed road & gravel derailleurs.
After a successful US launch at Sea Otter, the Maxhit Headsets and Bottom Brackets will be on display for the first time in Europe. Both items are now available to purchase from Enduro and their partners.
MAXhit components are all-440C stainless steel and eliminate the need for traditional aluminum bearing cups; it's a one-piece system in which the outer bearing race threads, presses or drops into the frame. This allows for much larger-diameter bearing balls riding in deeper bearing race grooves, resulting in headsets and bottom brackets that can handle twice the load of traditional bearings for smoother rolling, improved durability and better overall performance. MAXhit components include a lifetime guarantee.
If you're planning to attend Eurobike, please stop by the Enduro Bearings booth in hall 12.0 / D10
Image link to MAXhit and Direct Line
For media inquiries please contact Nic Sims at SIMBOL Communications: nic@simbolpr.com
About Enduro Bearings: Since 1996, Enduro Bearings has worked closely with bicycle manufacturers to provide the best bearing solutions for every application. We are engineers, we are innovators, we are bike riders, and we build performance products that endure under the toughest conditions. Our facilities in the USA and Singapore supply 'Enduro Bearings Inside' technology to cyclists around the world.
Press Contact
Nic Sims: SIMBOL Communications
310.935.9365