Enduro Bearings Announces Strong List of Sponsored Athletes/Teams for '22
March 9, 2022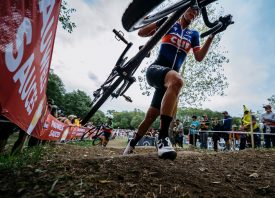 Wide range of on- and off-road athletes features cycling icons like Katerina Nash and Geoff Kabush, plus the LLG-CCB Women's Pro Cycling Team
Oakland, California (March 09, 2022)/ENDURANCE SPORTSWIRE/ – On the heels of announcing its groundbreaking Mechanics Ambassador Program, Enduro Bearings is proud to announce its 2022 athlete sponsorships, which includes a host of teams and individuals across a variety of cycling disciplines. All athletes will run industry-leading Enduro bearings and components including the patent-pending MAXhit™ bottom brackets and headsets and Torqtite® bottom brackets.
This year's list includes a total of 28 athletes (soloists and team members) competing globally in road, MTB, gravel and cyclocross. And like the mechanics program, Enduro has made a concerted effort to share its support equally among men and women, including the LLG-CCB Women's Pro Cycling multi-discipline team.
Among the most accomplished riders in the mix are cyclocross and MTB legends Katerina Nash and Geoff Kabush. Both will pursue a 'Swiss Army Knife' 2022 calendar, vying for wins and podiums in MTB XC, enduro, gravel and cyclocross events. Nash and Kabush know a thing or two about how nasty riding conditions can affect a bike's performance and how the right bearings can alleviate those issues.
"I run Enduro because each bearing is engineered for a specific location and purpose on the bike," Nash says. "Wouldn't it be great if all bike parts came with a lifetime guarantee like Enduro's?"
Kabush adds, "Enduro bearings are the unsung heroes of all my bikes. They keep running smoothly regardless of what I put them through."
Elite teams representing Enduro Bearings include: UCI Pro Continental squad Wildlife Generation Pro Cycling; a fresh version of the MAXXIS Factory Team that will race in MTB XC, gravel and Enduro events; and the new LLG-CCB Women's Cycling Team set to line-up at domestic road and criterium races, and venturing into the dirt at MTB and gravel events.
Rick Sutton, Enduro's marketing director, had this to say: "Fast riders are great; dependable, high-quality people are even better. We have all the above racing for Enduro Bearings."
 Enduro Bearings' 2022 Sponsored Riders and Teams:
Individual Riders:
Geoff Kabush: XC/Gravel/CX; 15x Canadian Champ, 3x Olympian
Katerina Nash: XC/Gravel/CX; CX World Cup Winner, 5x Olympian
Myles Morgan: DH/Enduro; U21 Enduro World Series podium
Yuri Hauswald: Gravel/Adventure; 2015 Unbound Gravel (200) Champion
Syd Schulz and Macky Franklin: MTB; Pro racers/mechanics, YouTube celebrities
Teams:
Wildlife Generation Pro Cycling: Road; UCI Pro Continental team, 10 riders
Maxxis Factory Racing Team: XC/Gravel/Enduro, 4 riders
LLG-CCB Women's Pro Cycling Team: Domestic Road/Gravel/MTB, 12 riders
For media inquiries please contact Nic Sims at SIMBOL Communications: nic@simbolpr.com
Link for hi-res images: HERE
 About Enduro Bearings: Since 1996, Enduro Bearings has worked closely with bicycle manufacturers to provide the best bearing solutions for every application. We are engineers, we are innovators, we are bike riders, and we build performance products that endure under the toughest conditions. Our facilities in the USA and Singapore supply 'Enduro Bearings Inside' technology to cyclists around the world.