Endurance sport brands see engagement rates drop on social media
February 1, 2022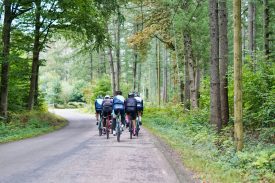 New report benchmarks 700 leading international endurance sport brands on Facebook, Instagram, Twitter & YouTube.
(February 1st, 2022) /ENDURANCE SPORTSWIRE/ – A new study from specialist research & consultancy firm MultiSport Research has found that engagement rates on social media, specifically for endurance sport brands, have dropped over time.
The latest updated social media benchmarking data, for Q4 2021, helps endurance sport brands to track their competitors on social. The 'Endurance Sport Brands on Social' dataset and report benchmarks 700 leading international endurance sport brands on Facebook, Instagram, Twitter & YouTube.
When comparing the engagement rate (how often fans interact with posts) in the latest quarter, with data from Q4 2018, there are some notable findings:
Between Q4 2018 and Q4 2021, endurance brands on average saw engagement on Facebook more than halve from 0.19% to 0.08%. In the same period, average engagement on Instagram dropped by two-thirds from 1.43% to 0.46%.
There has been a notable shift in the number of endurance sport social media profiles that are dormant (not posting). Facebook has gone from 7% to 20% of endurance sport profiles not posting, and Instagram has gone from 6% to 13%.
The role of social appears to be maturing for all brands & categories. As some brands become dormant (non- posting) with their social pages, engagement drops; and, in turn, there is a drop in average growth rates. Average weekly growth for Facebook dropped from +0.15% to +0.02% between Q4 2018 and Q4 2021. For Instagram, average weekly growth fell from +0.62% to +0.16%.
"We see that, over time, it is becoming much harder to maintain engagement rates at previous levels," said MultiSport Research founder, Gary Roethenbaugh. "This is particularly where a social platform's algorithm may change what a follower sees in their feed."
MultiSport Research's North America Director Kate Morefield, added that "For endurance sport brands, the main challenge is to build impact on social media platforms that clearly cater for a range of diverse user interests.
"Brands need to constantly evaluate the effectiveness of their social campaigns or risk further erosion of their brand profile and impact. Here, one approach is to monitor the features in those posts that resonate strongly with endurance sport audiences."
The new 'Endurance Sport Brands on Social' data helps brands to see how they stack up against: (1) the endurance sport industry overall; (2) specific endurance sport market sectors; and (3) key competitors. The data is used to help brands monitor, adapt and refine their activation in each social media channel.
As a special offer, for a limited period, the latest Q4 2021 dataset is available for a special discounted price of US$249.
Tracking 700 brands, from 2XU through to Zwift, and encompassing the largest through to the smallest operators, the 'Endurance Sport Brands on Social' data encompasses five main categories: Gear/equipment, Coaches, Media, Retail and Races.
Purchasers gain exclusive access to three files: (1) Endurance Sport Brands on Social summary report; (2) a main Endurance Sport Social Analytics (ESSA) datasheet; and (3) a datasheet showcasing top posts on social. Available now via bit.ly/EnduranceSocialQ421.
About endurance sport social analytics data and reports
The 'Endurance Sport Brands on Social' data offers detailed analysis, drilling down into sub-categories. This data helps companies answer key strategic questions, such as:
How do we compare against our competitor brands?
What can we learn from social media activity undertaken by others?
What types of post are most likely to resonate with the athlete community?
What types of image, post text and subject matter is most successful?
About MultiSport Research
Established in 2010, MultiSport Research (MSR) specialises in market insight and analysis services for the global endurance sport industry. Its services are independent, vigorously researched & strictly confidential.
MSR sits within a broad offering which spans industry information, to research and dedicated consulting services. To help the industry continue its path to growth, the company offers a wide range of services – from consumer and market research, through to event economic impact studies, product and consumer segmentation, pricing analyses, new product development, branding and strategy.
Alongside these services, the MSR team keep their finger on the pulse through industry news site: endurance.biz. Feel free stop by the news site, sign-up for daily e-mail news and follow us on social to check out the latest industry developments.
For more information on MSR, please visit www.multisportresearch.com.
For more information on endurancebusiness.com, please visit www.endurance.biz.
– ENDS –