Emerging Brand KINeSYS Sunscreen invited to Runchella 2023
May 9, 2023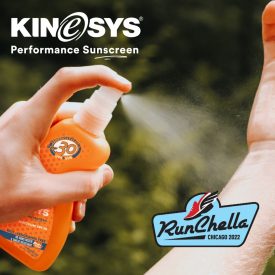 KINeSYS owners discuss product essentials and market considerations with RIA Members
/ENDURANCE SPORTSWIRE/ – KINeSYS Performance Sunscreen is honoured to be invited to Runchella 2023, the Running Industry Association's membership summit, as an emerging brand. Runchella is being held in Chicago from 8 – 11 May and combines educational programming, collaborations and brand presentations. It is open to RIA members only.
Lisa and Wade Heggie, Co-owners of KINeSYS, are thrilled to have the opportunity to discuss with RIA members the data, market considerations and the product details of the suncare category.
Since acquiring KINeSYS in 2107, the Canadian-based business has grown from zero doors to over 350 doors in North America. The company's strategy had been to grow their U.S footprint in the "specialist retailer" space, including many RIA members.
KINeSYS products are highly regarded and sought out by their loyal customer base and industry publications. Focused on performance, KINeSYS sunscreen is loved by people who enjoy being active outside as well as high performing athletes.
About KINeSYS Performance Sunscreen
KINeSYS Performance Sunscreen is a leading sunscreen manufacturer based in Canada. For 25+ years, the brand has been developing and distributing high-performance sunscreens and sun protection products around the globe, helping to spread the message of sun safety for all outdoor enthusiasts, 'However You Perform'. Available through specialty Retail Partners in the USA, Canada and Australia; and online at www.kinesysactive.com, www.kinesyactive.ca, and www.kinesysactive.com.au.
Media Contact:
Lisa Heggie
CEO / WILC Healthcare Inc.
1.888.546.3797 ext. 710
About Running Industry Association (RIA)
The RIA's sole purpose is to drive the running industry forward. Passionate about supporting the running community and developing the business of members, RIA succeed through collaboration, education, advocacy, innovation and delivering an exceptional customer experience.