Elite: Iconic Canadian brand Ciele Athletics launches a top-of-the-line collection
September 1, 2022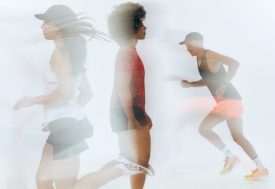 Available exclusively online
MONTREAL (Sep. 1, 2022) /ENDURANCE SPORTSWIRE/ – Ciele Athletics, the high-end performance running brand from Montréal, Québec, is proud to announce the launch of Elite, a new collection for runners who want the very best in quality, comfort and technical innovation.
"Elite is a key step in our continued commitment to offer precision technical products for runners," says Jeremy Bresnen, president and co-founder of the company, which launched in 2014 at select running stores and online across North America.
Elite: First-in-Class Performance and Protection for Your Run
The new Ciele Athletics Elite running-apparel collection includes men's and women's three-ply jackets, lightweight singlets, UPF protective T-shirts, no-stitch split shorts, a premium relaxed short and a sports bra, in an assortment of trend-leading colorways.
The Elite collection stands out thanks to its liberal use of no-stitch construction, as well as the introduction of COOLmaticTM performance fabrics, engineered for quick drying action and incredible breathability in extreme conditions. Additionally, COOLmatic.EXPTM, an elevated fabric in the COOLmatic fabric series, features integrated carbon yarn for impeccable temperature control, antimicrobial odor control and optimum UPF sun protection.
"The team went above and beyond with the Elite line," explains Bresnen. "They consolidated 30 years of combined experience in technical-apparel design to create a collection that is second to none." The Ciele design team worked closely with top-tier technical manufacturers, prioritizing quality and excellence and ensuring that the final products meet Ciele's highest brand standards.
The goal with this collection is to push beyond what consumers have come to expect from performance-driven technical running apparel. Superior innovation is woven throughout the collection, featuring fabrics with recycled yarn that have been sourced from Italy and Japan, COOLmatic.PLUSTM stitch-free liners for absolute comfort (featured in the DBSShort split shorts) and AIRbeamTM design for superior airflow in select pieces.
The FLRJacket, a truly technical inclement-weather running jacket, offers an unprecedented combination of highly breathable, true waterproof protection in a lightweight 10-denier recycled nylon three-ply shell fabric. The result is a hard-wearing, durable and comfortable performance piece designed to stand up to adverse weather while still offering the right amount of stretch for freedom of movement. The FLRJacket keeps runners protected so they can perform even in the harshest conditions.
All pieces in the Elite performance running men's and women's apparel collections are backed by the company's Million Mile Guarantee and range from US$60 to US$400. The collection will be available starting September 1, exclusively for 2022, via cieleathletics.com/elite.
About Ciele Athletics
Founded in Montréal, Québec, in 2014 by Jeremy Bresnen and Mike Giles, Ciele Athletics offers high-performance, durable and lightweight apparel collections designed for runners around the world. Their apparel and iconic line of caps are sold in over 30 countries, including more than 600 boutiques in North America and 300 international locations.
# # #
ALL MEDIA INQUIRIES AND REQUESTS
Justina Rapala Nielsen | FORTE MARE
justina@fmare.com
+1.310.845.6892