ELITE and Zwift Partner up for Monthly Pro Series Starting February 17th
February 15, 2022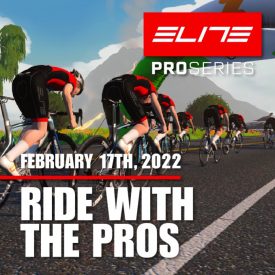 Six professional riders will join the inaugural ride on Zwift.
FONTANIVA, ITALY, February 15th, 2022 — Elite Cycling and Zwift are pleased to announce a unique opportunity for the cycling community. Starting this Thursday, February 17th, they will be hosting a monthly race on Zwift called the Elite Pro Series. Professional cyclists have been invited to line up and race shoulder to shoulder with cyclists from across the globe using the Zwift platform, giving amateur riders the special chance to measure their ability against the very best.
How does it work?
Courses will vary from month to month, ensuring that everyone will be able to race on a route best suited to their strengths; including big mountain climbs.
There will be a mass start for all categories from the pens so cyclists will be able to catch a glance of the Pros before the racing kicks into high gear.
The race will operate standard categories, A-D, including E for "Women Only".
Rules: Heart Rate monitor required and Zwift Power for official results, winner of each category.
Prizes: Bragging rights and Zwift high-fives.
First Race of the Series
The first event kicks off on February 17th at 7:30 pm CET / 11:30 am MST and will be hosted on the "The Magnificent 8" course, in Zwift's main map, Watopia. The route is quite flat, with the only climb being a reverse Hilly KOM.
Length: 28.6 km (17.8 miles)
Elevation: 131 m (430 ft).
Expected Duration: 45-60 min.
The Pros
Six professional riders will be joining the inaugural ride this Thursday. Teams who confirmed the participation for the first round are the Movistar Team, both the Men's Team and the Women's Team, the Movistar eTeam and the Équipe Cycliste Groupama-FDJ. Elite invites cyclists of all abilities and disciplines to join these Pros at the start line.
Matteo Jorgenson, Movistar Team
Barbara Guarischi, Movistar Team
Tobias Ludvigsson, Groupama-FDJ
Lewis Askey, Groupama-FDJ
Vidar Mehl, Movistar eTeam
Steph Clutterbuck, Movistar eTeam
Peter Lago, spokesperson for Elite states, "We'll make good use of our champions by inviting them to ride with you and many other cyclists all over the world. Who doesn't want to say they have raced with the best of the best? This is truly something special for our pro athletes as well. It gives them a chance to connect with their fanbase via Zwift and race the global community. We expect the competition to be intense, yet fun," finishes Lago.
Click here to register: https://www.zwift.com/uk/events/tag/elitepro/view/2615501
Media contact: Katie Macarelli / Thorpe Marketing – katie@thorpemarketing.com
-###-
About Elite
Elite, a company of cycling enthusiasts, has been offering unique and cutting-edge products to the cycling world for over forty years. This self-financed, award-winning brand manufactures locally in Italy; specializing in R&D, production and marketing of home trainers, bottles and bottle cages.  They've been providing equipment to the world's professional cycling teams since 1979, allowing them to be on the cutting edge of the cycling world's needs and wants. Learn more at www.elite-it.com/en/.
#EliteCycling #ChangeYourRide #LoveYourTraining #FaceTheRace