Electrolit Hydration Beverage Announces Launch of New Blue Raspberry Flavor
February 28, 2023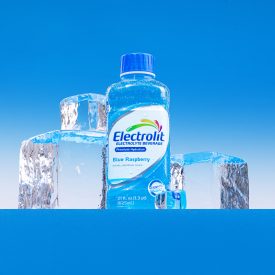 Cult-Classic Flavor Rounds Out Colorful Drink Lineup
CERRITOS, Calif. (February 28, 2023) /ENDURANCE SPORTSWIRE/ – Electrolit – the preferred, premium hydration beverage made from pharmaceutical quality grade ingredients – announced today the launch of their newest favor, Blue Raspberry. This exciting new flavor is the 14th addition to the global brand's expansive line of hydration beverages.
"Blue Raspberry is a classic American flavor that is well-liked and regarded highly in the beverage industry," said Jake Sloan, Sr. Marketing Director of Electrolit USA. "Pairing the universal love for Blue Raspberry with our scientifically-backed formula brings pharmaceutical-grade hydration to consumers while still tasting great. We hope this expansion of our line appeals to a wider audience of individuals seeking fast hydration and drives further innovation in the beverage industry."
Electrolit Blue Raspberry is a classic convenience store take on Electrolit's tried and true formula. Each 21 fl. Oz serving of Electrolit contains 326 mg of electrolytes alongside real glucose- a natural source of energy that boosts the body's recovery from dehydration. Every bottle is carefully constructed in a state-of-the-art facility with a fully automated and integrated manufacturing process. With such, Electrolit seeks to make premium-grade hydration accessible and suitable for consumers across the nation.
Scientifically formulated with magnesium, sodium, potassium, calcium and glucose, Electrolit provides complete hydration when electrolytes and ions are low to replenish the body. Electrolit can be purchased at Walmart, Kroger, HEB, 7-Eleven, Circle K and more, and through online channels. For more information, visit https://electrolit.com/ or follow them on Instagram or Facebook.
About Electrolit
Electrolit manufactures a scientifically formulated premium hydration beverage that replenishes the body after physical activity, intense heat, hangovers, or sickness. The hydrating beverage company was founded with the purpose of supporting individuals recovering from a virus outbreak in Mexico that occurred in 1950. Since then, Electrolit has become revered by athletes as a sports recovery drink. Formulated with magnesium, potassium, calcium, sodium glucose, and sodium lactate plus six ions for electrolyte absorption, Electrolit aids in recovery of the hydro electrolytic imbalance, fulfilling metabolic and hydration needs. Available in nine delicious flavors, Electrolit is currently offered in national, grocery, convenience and online channels across the nation, including Walmart, Kroger, HEB, 7-11 and more. Electrolit is manufactured and owned by Pisa Pharmaceuticals, the largest pharmaceutical company in Mexico and Latin America.
###
Media Contact
Matt Kovacs
310-395-5050