EKOÏ and Pininfarina Unveil The Aerodinamica Helmet
July 3, 2023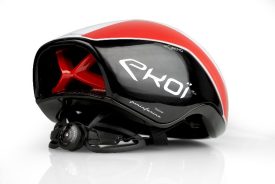 /ENDURANCE SPORTSWIRE/ – Cycling equipment brand Ekoï is proud to present its new Aerodinamica helmet on the day of the big start of the Tour de France. More than just a name, the Aerodinamica reflects the very essence of its design, with a reference to the history of the designers at the famous Pininfarina house. In 1936, Giovanni-Battista Pinin Farina designed one of his first vehicles: the Lancia Aprilia Aerodinamica, destined for competition. 87 years later, the Italian car designer Pininfarina drafted a cycling helmet for the first time in an exceptional collaboration with Ekoï.
Design meets aerodynamics.
The task was straightforward: a helmet that made no concessions between elegance and performance! This was the mission entrusted to Ekoï engineers and Pininfarina designers. In Fréjus as in Cambiano, several months of research and development were necessary to achieve the desired result: the helmet Ekoï Aerodinamica designed by Pininfarina.
From the shape of the helmet, with its distinctive lines studied at length in Pininfarina's legendary wind tunnel, to the choice of racing colors and the incorporation of the latest safety innovations, no detail has been overlooked in this work of art, part science, part sport.
Koroyd® technology: innovation for safety
No cyclist can express their full potential with total trust in their gear. The Ekoï Aerodinamica helmet has been designed to allow the most explosive, quick and fast riders to gain precious watts at decisive moments. Sprints are, by their very nature, particularly hectic moments where the tiniest mistake is not an option.
The Ekoï Aerodinamica helmet judiciously incorporates 4 inserts of Koroyd® technology. This consists of a honeycomb structure of long, thin tubes heat-welded together, 95% composed of air. The tubes' walls, some of the thinnest in the world, collapse evenly in the event of impact, absorbing the impact's synergetic energy on the front and side of the helmet. This unique property reduces damage to the skull while providing a real feeling of cooling thanks to the circulation of air through the tubes and a sensation of weightlessness. Ekoï is the only brand equipping UCI World and Pro Tour teams with the innovative Koroyd® technology, a guaranteed safety feature for riders.
A helmet eagerly expected by the peloton's riders.
The Ekoï Aerodinamica helmet meets several criteria: comfort, design, light weight, aerodynamics and safety. It quickly caught the interest of professional riders, who were able to test it during the development phase. Giacomo Nizzolo and Caleb Ewan have already benefited from its gains in sprints, winning respectively the Tro Bro Léon and the Van Merksteijn Fences Classic. At the Tour de France, Ekoï Aerodinamica will be one of the most visible helmets, as it will be worn by 4 teams in the peloton: Israel-Premier Tech, Lotto-Dstny, Arkéa-Samsic and Cofidis.
Technical specifications of the Ekoï Aerodinamica helmet
Product benefits:
High level of protection thanks to Koroyd® technology (+48% energy absorption compared to standard EPS)
First cycling helmet in the world to be designed by Pininfarina
Developed in a wind tunnel to minimize its drag ratio (CX)
Modular design: 100% aero closed helmet / 100% comfort and airflow open helmet.
Features:
Fidlock® magnetic buckle: intuitive single-handed adjustment to open and close the chinstrap
ATOP® wheel: micrometric adjustment of occipital support
Adjustable straps with lateral V-shaped adjustment buckles under the ears
Koroyd® protection: 2 side inserts and 2 front inserts
CE / CPSC / AS NZ / UKCA certifications
Helmet soon available in two color options: white-red and black
Price : 249,99 euros
For more information, go to ekoi.com
About Pininfarina :
A global icon of Italian style, Pininfarina is recognised for its unrivalled ability to create timeless beauty through its values of elegance, purity and innovation. Founded in 1930, Pininfarina has grown from a cottage industry to an international service group. The company is the ultimate expression of automotive style and an established reality in the fields of industrial design and experience, architecture, boating and mobility as well as automobiles. A group that employs 500 people, with offices in Italy, Germany, China and the United States, and has been listed on the stock exchange since 1986. In nine decades, Pininfarina has designed more than 1,200 vehicles and over 600 projects in various fields, receiving numerous international awards.
About EKOI :
Founded in 2001, EKOÏ has rapidly established itself as a leading brand in the international market for cycling equipment (road, mountain bike, triathlon). A pioneer in online sales since 2008, EKOÏ has chosen to offer consumers premium products combining design and technical features, at a very competitive price-quality ratio. Its ongoing collaboration with professional cyclists has allowed the company to offer highly innovative ranges that promote performance.
In 2023, EKOÏ is working with teams such as Cofidis, Arkéa-Samsic, Israel-Premier Tech and Lotto-Dstny on the most prestigious races of the season.