Eaton Becomes Mobile Charging Unit Partner at P3R Events, Including DICK'S Sporting Goods Pittsburgh Marathon Weekend of Events
January 19, 2023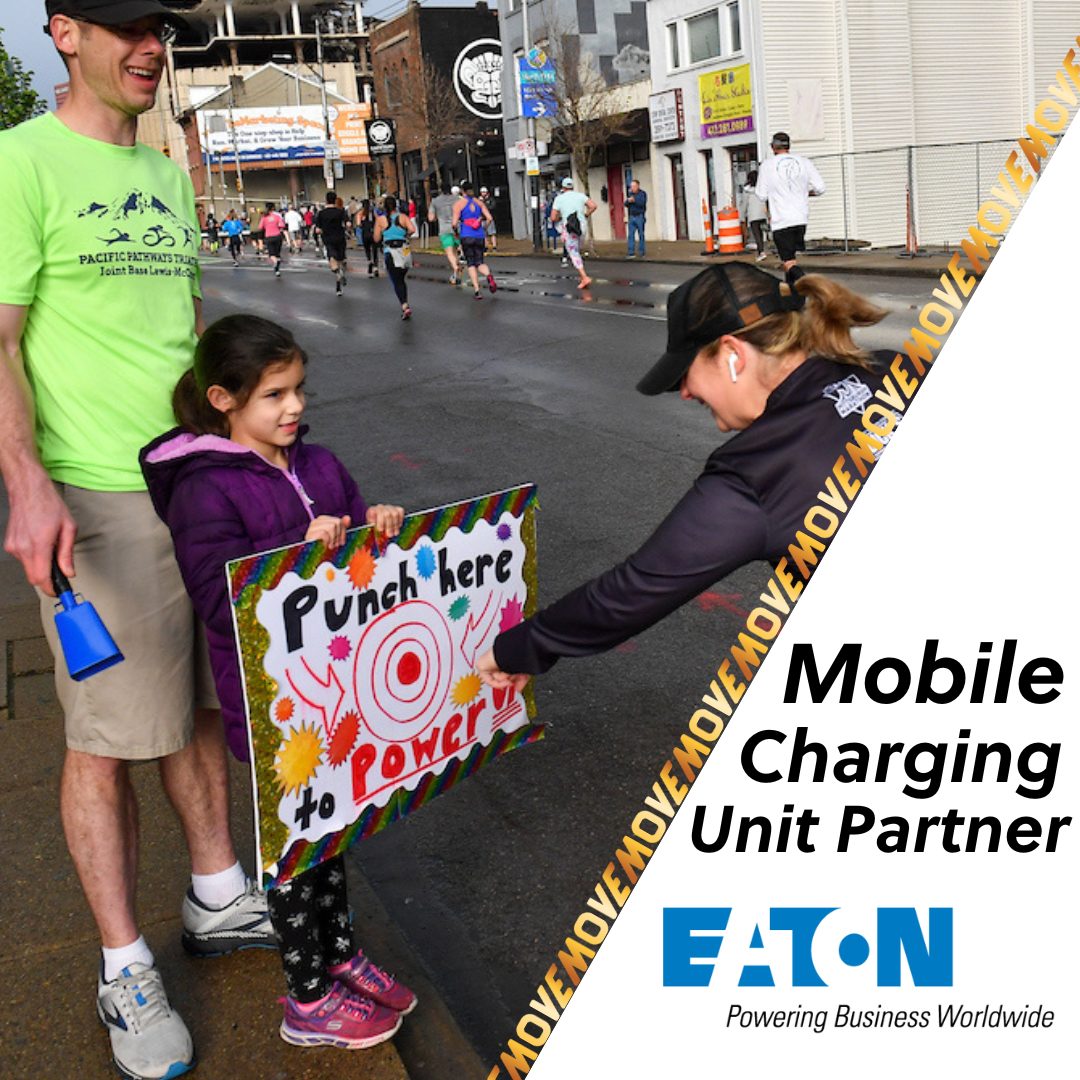 Through the three-year partnership, convenient and secure phone charging stations will be set up at locations throughout the 2023 Pittsburgh Marathon weekend, scheduled for May 5-7
PITTSBURGH, PA /ENDURANCE SPORTSWIRE/ – P3R announced that Eaton, an intelligent power management company, will be the mobile charging unit partner at all P3R events, including the DICK'S Sporting Goods Pittsburgh Marathon Weekend of Events. Through the three-year partnership, convenient and secure phone charging stations will be set up at locations throughout race weekend including the Pittsburgh Health and Fitness Expo and the Finish Line Festival.
"Whether it is capturing race day memories, recording runs on fitness apps or calling loved ones to share their accomplishment, we know that phones and other devices have become an essential part of the race day experience for our participants," said Troy Schooley, P3R CEO. "Eaton has been a dedicated event partner since they first came on board, and we are excited to expand the partnership to make race weekend even better for our participants, as well as our spectators and volunteers."
Eaton's support will provide mobile charging units at P3R and partner events throughout the year, including the Fleet Feet Liberty Mile, FlyBy 5K and 2-Mile Fun Run/Walk presented by CNX Resources, and EQT Pittsburgh 10 Miler. From sponsoring the volunteer program to participating in the FedEx Pittsburgh Corporate Challenge, Eaton has been a strong supporter of Pittsburgh's largest sporting event for more than 10 years.
"We are invested in supporting the health and well-being of our community, and every day, we help provide safe, sustainable power for our customers," said Kaitlyn Mammay, Health Promotion Specialist at Eaton. "We are thrilled to expand our partnership with P3R to help bring reliable, renewable power where it's needed most and inspire individuals of all ages to move."
P3R will inspire all ages and abilities to MOVE in 2023 with events for everyone, including the DICK'S Sporting Goods Pittsburgh Marathon Weekend of Events, Fleet Feet Liberty Mile, GAP Relay presented by UPMC Health Plan and the EQT Pittsburgh 10 Miler. For more information about P3R events or programs, visit www.P3R.org.
About P3R
P3R is the engine behind Pittsburgh's greatest races. We strive to inspire any and all to MOVE with us. Best known for organizing the acclaimed annual DICK'S Sporting Goods Pittsburgh Marathon, P3R runs a variety of other high-quality races, events, and health and fitness programs throughout the Pittsburgh region. While many of our races attract some of the nation's highest-profile professional athletes, we offer activities for all ages and ability levels. Anyone and everyone is invited to #RUNwithP3R! Read more at: P3R.org
FACEBOOK: RUNwithP3R                INSTAGRAM:RUNwithP3R       TWITTER: @RUNwithP3R