Do you own a road bike? Come and try the 2023 Cycling Time Trials Road Bike Championships
September 7, 2023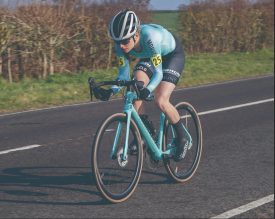 Entries are open for the second installment of the Cycling Time Trials (CTT) Road Bike Championships 2023; hosted by the team at FTP Racing (Fulfill the Potential) near Bristol on Sunday 1st October 2023
/ENDURANCE SPORTSWIRE/ – The team at Cycling Time Trials (CTT) are excited to share that FTP Racing (Fulfill The Potential) will be hosting the 2023 edition of their Road Bike Championships; an inclusive event which welcomes all cyclists to take part – all you need is a road bike, helmet, shoes and working front and rear lights. The event is set to take place on a brand new course (U604), and the 18.5 mile circuit takes on the smooth, undulating roads around the famous Castle Combe, a great area known to cyclists and an accessible area for many within the UK.
The inaugural Road Bike Championships was held only last year, and the hosting team FTP Racing are working hard to build upon the event this year, hoping that it'll be an appealing point of entry for those that might not have thought to compete in a time trial in the past. They will be leading with a number of very exciting initiatives, including a complimentary childcare service for riders who otherwise might not be able to race due to childcare considerations. This will be hosted in a safe setting within the HQ and run by a qualified team of professionals. Places will be limited, and more information can be obtained via the CTT race entry details
To ensure safety and fairness within the competition, the Road Bike Championships will follow a specific road bike criteria, which was announced by the team at CTT earlier in the year, more information about this can be found here. In summary, road bikes must not include tri-bars, clip-on bars or Spinaci bars, disc wheels are prohibited, and both the front and rear wheels must have at least 12 spokes with a maximum rim depth of 90mm. This is to ensure equality in competition, and ensure that all are competing on a level and consistent playing field, with limits to levels of equipment performance gains.
Andrea Parish, Chair of Cycling Time Trials (CTT) says: "I'm signed up to do the Road Bike Championships myself, and I cannot wait, it looks set to be the highlight of my own personal racing season. Here at CTT we are absolutely committed to the promotion of inclusivity and a fair competition in our sport, and this event looks set to achieve just this, underpinning these such values, whilst providing a welcome introduction into our sport, for those that might not have thought to give time trial racing a go."
Billy Oliver, Team Manager of Fulfill The Potential Racing (FTP) says : "The Road Bike Championships offers a great option for those not on a full time trial set up to get involved. We have selected a course that we felt offered a bit of everything, fast sections, technical aspects, a rolling parcours and a punchy finish. This is a great showcase event for the district and we are very proud to be given the opportunity to run the event."
Entries for the Road Bike Championships close at midnight on Tuesday 19th September 2023, all booking information can be found via the following links, men, women and junior.
This event is kindly supported by Bomber Bikeworks www.bomberbikeworks.co.uk , F&G Partners and Warmley Waiting Room www.warmleywaitingroom.co.uk with Jon from www.pedallingperfection.com kindly supporting the childcare initiative, to ensure it can be a free service to those needing it on the day Stimulatte Coffee will be on site with Steve who has kindly supported many FTP Racing hosted events.
To learn more about Cycling Time Trials visit www.cyclingtimetrials.org.uk or follow them via Facebook, Twitter, Instagram, and LinkedIn.
———————————————————-ENDS——————————————————————-
Images: https://drive.google.com/drive/folders/1uil7_bVL8r2FP4WOHcfkwxkeLoTuzrar?usp=sharing
Contact
Name: Kate Allan – Compete PR
Email: Kate@competepr.com
Phone: +447754 072648
Editors Notes
Cycling Time Trials is the National Governing Body for time trials in England, Scotland and Wales.
In the early days it resembled more like what we now know as road racing where all competitors started together and the first to cross the line won.
With the introduction of the motor car all this changed, with events being pushed off the road and held on velodromes. However there were those who still wanted to compete on the road.
One of these, FT Bidlake by name, came up with a plan. If each rider were to be dispatched separately and just timed over the course, he wouldn't be seen to be racing, just going about his normal business "a bit quick like"! Then the person covering the course in the shortest time could be (secretly) declared the winner.
So Time Trialling came into being.
In the early days (and until relatively recently) it was a fairly simple matter of finding a convenient place to start an event, measuring half the intended distance of the event up the road, noting the place where a marshal was to be stationed to turn the riders, and fixing the finish opposite the start. Traffic conditions have all but put paid to that sort of simplicity. Now courses have to be designed with turning points at convenient flyovers or roundabouts, starts and finishes are rarely very close together, and the provision of a HQ with changing facilities is high on the priority list.
As the years have passed, various changes have been made. Time Trialists no longer have to meet in secret, wearing what was called "inconspicuous clothing". Pre-event publicity, has been allowed for as long as most people can remember, and prize winners are allowed to receive cash prizes.
The idea of individuals riding "against the clock" and ignoring any other rider who they catch or who catches them still holds true for the majority of events today but there are also events which are for teams of two, three or four riders who ride together known as Team Time Trials – shortened to 2up/3up/4up TTTs.
Events held on flattish main roads and following a more-or-less "out and home" pattern are still in the majority but with the increasing level of traffic there has been a tendency for more events of a so called "sporting" nature to take place. These are often on hillier roads and usually follow circuit type courses so that the route can be followed by using only left turns. This means, the problems associated with the long "spear-point" intersections of dual carriageway roads can be avoided.
Many over 40s take part in Time Trials and the VTTA (Veterans Time Trials Association) devised a system of "Standards". These are only for those 40 years old and more and consists of a table of allowable times at each age for all the standard distances competed at. To work out the result of an event each rider's time is compared to his Standard and the difference (±) is credited. The winner is the rider with the most plus.
All open events are advertised in the annual 'CTT handbook' and via the website. To ride in any of them you need to be a member of a club affiliated to Cycling Time Trials. There are at least that number again of "Club Events" (which are generally not advertised) and if you approach the club promoting one of them you could get a ride on a "come and try it" basis.