Division BMX to Showcase Local Legend Marshall Gehrke at Intelligentsia Cup's Lake Bluff Event
July 27, 2023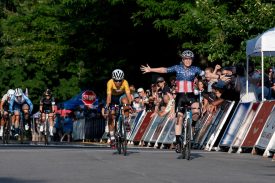 Intelligentsia Cup hosts during ACC Event at Lake Bluff
Chicago, IL, July 27, 2023/ENDURANCE SPORTSWIRE/ – Division BMX, the renowned adrenaline-fueled BMX stunt team, is set to wow audiences at the upcoming Intelligentsia Cup bicycle race event in Lake Bluff, this Saturday (July 29).
The action-packed event will feature two exhilarating BMX shows, scheduled at 4:00pm and 5:30pm. Shows are scheduled to last 30 minutes, and will feature the exhilarating stunts that are sure to excite spectators and Intelligentsia Cup riders alike. Notably, Division BMX will be joined by the esteemed 16 year old local legend, Marshall Gehrke, son of Erik Gehrke, Deputy Chief of Police at Lake Bluff.
Press and public are invited to attend both the performance as well as the bike racing, which will begin at 11:10am, and conclude by 8:00 pm. The races begin with novice riders in the morning, and conclude with the pro races in the evening. The full schedule and event information can be found here: https://intelligentsiacup.com/schedule/lake-bluff/
Spectator Parking: Please use the Metra Lot on Sheridan and Route 176. If that lot is full, Lake Bluff School lot at Mawman and Route 176 can be used as an alternative.
Marshall Gehrke, a rising star in the BMX world, brings his exceptional talent and captivating stunts to the forefront at the Lake Bluff event. His presence adds a special touch to the already thrilling BMX showcases, and the Intelligentsia Cup Race Director is proud to welcome him:
"We are absolutely thrilled to have local BMX prodigy Marshall Gehrke join us for this event," said Marco Colbert, Race Director of Intelligentsia Cup. "His extraordinary skills and dedication to the sport are an inspiration to all BMX enthusiasts. Having him with us elevates the excitement of the day and adds a unique local flavor to our festivities."
Casey Ervin, representing Division BMX, expresses his enthusiasm for showcasing their awe-inspiring stunts and spreading the joy of BMX riding:
"At Division BMX, we're adrenaline junkies who love nothing more than putting on an exhilarating show and bringing smiles to people's faces," said Casey Ervin. "We are incredibly excited to bring our talented crew to Lake Bluff, a community that shares our passion for bikes and the thrill of BMX. This event promises to be an unforgettable celebration of the sport we love!"
The Intelligentsia Cup is a 10 day criterium event. Criterium (aka "crit") races are road bicycle races that are raced on short courses. Intelligentsia Cup courses are designed to go through busy community centers (often downtown) to attract as many spectators as possible. The event works with communities to bring expos, bike giveaways, family carnivals etc. into each town.
"Each venue truly is a community event….with a bike race. Our goal is always to help the communities we are in. We want the day we come to be the best sales day of the year for businesses, and to also unite the community. These events should be fun for the entire family – not just the riders." Marco Colbert, Race Director, Intelligentsia Cup
The ten locations which make up the 2023 event are: West Dundee, Glen Ellyn, Winfield, Mundelein, Lombard, Brookfield (new in '23), Northbrook, Elgin, Lake Bluff and Chicago (West Fulton Market). Each course is unique to that community and the corresponding, ineffable vibe is unique to that given venue.
The Intelligentsia Cup's Lake Bluff event will be the 9th race in their 10 day series which races all around Chicagoland. The event attracts both novice and elite athletes from all over the world. Registration for the 2023 event is projected to exceed 5,500 as they celebrate their 11th year of elevating the sport of cycling in America.
The Lake Bluff event will also be part of the American Criterium Cup (ACC). The ACC is ten historic events coming together to offer a combined series purse of $500,000, split evenly between women's and men's fields. Intelligentsia Cup will be the 7th race in the series.
About Intelligentsia Cup:
The Intelligentsia Cup is a 10-day road series in and around Chicagoland. The venues in 2023 are: West Dundee, Glen Ellyn, Winfield, Mundelein, Lombard, Brookfield (new in '23), Northbrook, Elgin, Lake Bluff, and West Fulton Market in Chicago. This exciting series attracts elite and amateur cyclists from all over America and around the world, and is the largest road series in the country. Intelligentsia Cup is part of the American Criterium Cup, a series of criteriums that share a vision to invigorate American criterium racing and create engaging events that are spectator-friendly, and great for the communities in which races are staged.
Press Contact:
Bekah Collins
520-481-1184
bekah@goodnewscommunications.com
###