Destination Sport Experiences Announce Partnership with Saint Piran Professional Cycling Team
February 17, 2022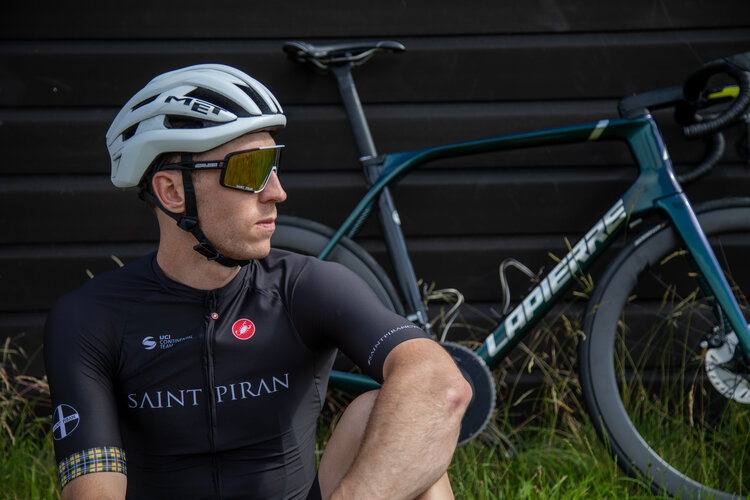 Destination Sport Experiences are delighted to be working with the British UCI Continental Cycling team to bridge the gap between elite-level British cycling and its fans.
/ENDURANCE SPORTSWIRE/ – The new partnership promises both fans and the team itself enhanced experiences at both UK and European races thanks to the expertise of the Destination Sport Experiences team. Fans will be able to access exclusive experiences at races both at home and overseas with dedicated 'fan zones' at hand-picked events. There will also be the opportunity for Destination Sport Experiences customers to ride in the Saint Piran team car on race days, such as at the Tour of Britain which the team are likely to attend this September.
As with all their events, Destination Sport Experiences will provide complete bespoke packages to facilitate smooth, fuss-free travel to and from races along with top quality race day experiences. The team will also be working directly with the Saint Piran cyclists to assist them with travel to events. On top of this, Destination Sport Experiences will be introducing corporate clients to the Saint Piran cycle professionals for an even more cohesive and valuable experience.
Brendan Fox, Managing Director of Destination Sport Experiences, said:  "We are thrilled to be working with one of the most exciting cycling teams to emerge in the last few years.  Saint Piran takes a different approach to cycling, especially with their stance on equality for women's cycling.  We will be helping to bring fans closer to the riders and all the action at cycling races in the UK and in Europe with some fantastic exclusive experiences."
Ricci Pascoe, Team Principal at Saint Piran said: "We're very pleased to be working with the team at Destination Sport Experiences and are looking forward to being able to enhance the race day experience for both our riders and our fans."
Saint Piran Pro Cycling Team is a British UCI Continental cycling team based in Cornwall, southwest England. It was founded in 2018 with the intent of developing Cornish and UK talent .
By 2023 they want to be accommodating riders from overseas in the upward journey of searching for Pro Continental or World Tour status. They have a tremendous worldwide following and want to showcase the great spirit of cycling.
Destination Sport Experiences was founded in 2021, and the team lead bespoke travel packages for some of the biggest and best sporting events in the world. They encourage athletes to 'Do Something Extraordinary' and take the stress out of organising travel and accommodation for worldwide cycling, running and triathlon events.
For more information on Destination Sport Experiences, please visit www.destinationsportexperiences.com. The team can also be found on Facebook, Twitter and LinkedIn.