Delaware Marathon Field Set to Be the Largest Ever
February 4, 2022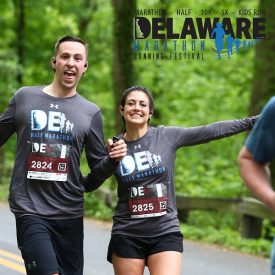 /ENDURANCE SPORTSWIRE/ – This year's marathon distance at the Delaware Marathon Running Festival, scheduled for April 24, is on pace to be the largest field ever.  Typically drawing a field of about 450 participants, the full marathon has already surpassed 500 registrants with 80 days to go. To date, runners from 33 different states have registered along with 3 international participants.  The marathon's largest field was 604 finishers in 2012.
The Delaware Marathon Running Festival allows runners to enjoy the best of Wilmington, including majestic views along the riverfront, parts of the beautiful downtown area, as well as scenic Jack Markell Trail. Runners who are not up for the 26.2-mile distance can select a half-marathon, 10k or 5k instead.   All include access to brilliant post-race festivities in a beautiful park setting.  Registrants will earn an Under Armour premium and a medal that features an Inspiration Coin to share with someone special.
Whether entrants are 50 State Club members seeking to expand their repertoire, serious athletes training to qualify for the Boston Marathon, or recreational joggers aiming for the simple satisfaction of having completed a marathon, the interest in this year's marathon is unprecedented.  Registration is open.  Rates for all races increase on March 1st.
For more information about the event, and to register, visit www.delawaremarathon.org
###
About CSE
Corrigan Sports Enterprises has earned its national reputation by owning and operating some of the largest events in the endurance industry. Founded in 1991, CSE owns and/or operates marquee events such as the Baltimore Running Festival, Frederick Running Festival, Baltimore 10-Miler, Oakland Running Festival, and the Under Armour All-America Lacrosse Classic. For more information visit: www.corrigansports.com.