Defiant Hauser Has a Point to Prove as Super League Triathlon Returns to Munich
September 9, 2022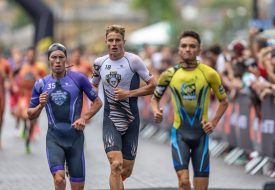 Hauser v Wilde and Taylor-Brown v Beaugrand headline return to the Olympiapark as the second race of the 2022 Championship Series gets underway
/ENDURANCE SPORTSWIRE/ – Defiant Matt Hauser insists his recovery from an incorrect penalty proves he is a genuine title contender as Super League Triathlon returns to Munich, Germany, this weekend.
The Australian was second out of the water of the Stage 1 swim in the Championship Series opener in London, but lost ground as he was held in transition after being penalised for a false start, which later turned out to be that of his SLT Eagles teammate Jamie Riddle.
Hauser produced a remarkable comeback, finishing the race in second place behind Hayden Wilde, and believes his resilience proves he will be a major factor in the race for the Overall Leaderboard which resumes at the Olympiapark in Munich on Sunday, September 11.
Matt Hauser said: "I am looking forward to starting on an even playing field and seeing what I can do in Munich. It's been a great season for me so far and I have been really looking forward to Super League.
"I have a point to prove. I am not here just to win the swim jersey as I did last year. I am here to challenge for the overall."
Wilde has a one point advantage in the Men's Leaderboard after Round 1, with Hauser tucked in just behind. Three-time Olympic medallist Jonny Brownlee sits fifth after a successful return to Super League racing following injury.
In the women's, the big battle looks set to be between Bahrain Victorious Scorpions teammates Cassandre Beaugrand and Georgia Taylor-Brown, though USA star Taylor Spivey showed her form by splitting them in London.
This weekend's race will be Super League's second visit to Munich this year after hosting an Arena Games Triathlon event earlier in 2022. The race will be over the Enduro format, the most brutal of the SLT formats, with athletes facing three continuous bursts of swim-bike-run.
For information on how to watch Super League Triathlon in your region please visit our website.