Deena Kastor becomes an AbbottWMM Six Star Finisher
September 25, 2022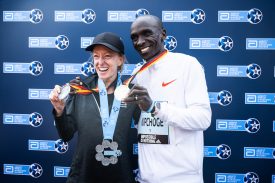 /ENDURANCE SPORTSWIRE/ – Deena Kastor, former American record holder for the marathon, half marathon, 10,000 meters and road 5km – today collected another accolade as she became an Abbott World Marathon Majors Six Star Finisher.
The 2004 Athens Olympic bronze medalist over 26.2 miles finished the BMW BERLIN-Marathon today in a time of 2:45:12, completing her suite of the Majors, having won the Bank of Chicago Marathon back in 2005 and the TCS London Marathon in 2006.
The TCS New York City Marathon was her first marathon and set the scene for the flourishing career that followed. Her 2:26:58 was the fastest debut for an American and she finished seventh overall.
She ran the Boston Marathon in 2007 (finishing 5th) and 2008 (taking top honors in the American Olympic trials) and was one of many not to finish that weather-stricken 2018 race.
Tokyo Marathon came later in Deena's career in 2019 – in wet and windy conditions. It was a very challenging day, but she did it – despite being pulled into the medical tent at halfway for possible hypothermia and being knocked over twice – one of which dislocated her shoulder which she only realized quite some time after.
Speaking today as she collected her Six Star medal Deena said: "The feeling is better than I could have ever imagined. It's been the summation of many years in the sport. This has been a project from 2001 to 2022 and it has quite simply been amazing."
Deena's husband and top American coach Andrew Kastor presented Deena with her medal along with their daughter Piper. Close behind to congratulate Kastor was newly crowned BMW BERLIN-Marathon champion and owner of the new world record time of 2:01:09, Eliud Kipchoge.
Deena is not only still running with the professionals aged 49, but she is also now the co-host of a new podcast: Marathon Talk powered by Abbott World Marathon Majors. Alongside Martin Yelling, Deena will be coming to you every second Friday to talk all things marathons and much more. Find the pilot episode in the link HERE.