deboer wetsuits Unveils FJORD 3.0
March 1, 2023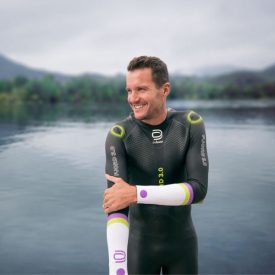 The Next Generation of Wetsuits for Triathletes
GRAN CANARIA, SPAIN /ENDURANCE SPORTSWIRE/ – On March 1st, deboer wetsuits proudly introduces the FJORD 3.0, the pinnacle of wetsuit innovation and performance for triathletes. The FJORD 3.0 integrates two years of research, development, and testing to create a wetsuit that is faster than ever before.
The proprietary X-Skin neoprene technology used in the FJORD 3.0 reduces hydrodynamic drag through its innovative scale array texture. The redesigned sleeves of the wetsuit maximize flexibility through the shoulder, while the purpose-designed Propulsion Forearm allows for athletes to catch and pull more water than ever before.
The FJORD 3.0 is inspired by the Sub7/Sub8 wetsuits that were worn by Kristian Blummenfelt and Nicola Spirig, and refined through countless iterations of development with Jan Frodeno and Santara Technology. The wetsuit has already earned a World Title when Kristian Blummenfelt wore it on his way to winning the 2022 IRONMAN 70.3 World Championship.
"The FJORD 3.0 is a game-changer for triathletes," said Jan Frodeno, IRONMAN World Champion. "The X-Skin technology and redesigned sleeves allow for an unparalleled level of speed and flexibility in the water, giving athletes a real advantage in their races." Ironman Champion Daniel Bækkegård recently tested the new offering. "After swimming just 100m meters in this suit I was blown away by how fast and comfortable I was able to move through the water. I knew instantly that this wetsuit was capable of supporting my performances in a way no other wetsuit would be able to."
The FJORD 3.0 also features a redesigned collar to seal out water and improve comfort and durability, a Hi-Vis Ocellus pattern to improve visibility in the water, and a C8 coated, Hydrophobic Super-Stretch comfort lining. The seams on the wetsuit are hand-glued with double blind-stitched seams by only the most experienced craftsmen.
Several world-class triathletes have chosen to swim in the FJORD 3.0 this season, including Jan Frodeno, Gustav Iden, Kristian Blummenfelt, Chelsea Sodaro, Paula Findlay, Daniel Bækkegård, Ben Kanute, Sara Pérez Sala, and Amelia Watkinson. These athletes recognize the superior performance and quality that the Fjord 3.0 wetsuits offers.
The FJORD 3.0 was designed by Daniel Puissant and Alex Deboer in partnership with Olav Aleksander Bu; coach to Ironman World Champions Kristian Blummefelt and Gustav Iden. Additional testing and performance guidance was provided by Santara (Tech) Technology. The suit is approved for use by IRONMAN, World Triathlon, and ETU when wetsuits are permitted.
"We extensively studied scientific research papers in flow dynamics to create the most advanced surface available today," said Alex de Boer, co-founder of deboer wetsuits. "The FJORD 3.0 is a testament to our commitment to innovation and performance for triathletes at all levels."
The FJORD 3.0 is now available for purchase on the deboer wetsuits website.
For more information about deboer wetsuits and the FJORD 3.0, visit www.deboerwetsuits.com.
Contact:
Jordan Bryden – deboer wetsuits