deboer wetsuits introduced the Flōh 2.0 wetsuit
January 20, 2022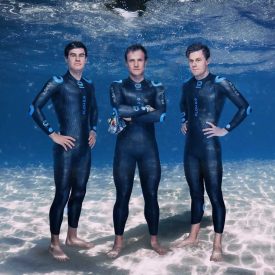 The Flōh 2.0 wetsuit allows you to go faster, swim longer, and be more comfortable.
Stamford, CT, Release: January 20, 2022 /ENDURANCE SPORTSWIRE/ – deboer wetsuits is proud to introduce the Flōh 2.0 wetsuit.  The Flōh 2.0 shares much of its DNA with the Fjord 2.0, the exception being the material used in the sleeves. The Flōh 2.0 utilizes 1.5mm UltraFlex™ sleeves for near zero resistance shoulder movement, while also providing additional warmth. The Flōh 2.0 wetsuit is designed to be the world's fastest wetsuit for athletes who get cold easily when they swim.
Alex de Boer, deboer wetsuits co-founder & wetsuit designer
"Every year in Kona we see some athletes are well adapted to the heat to perform their best, while others struggle. The same goes for the cold – some athletes perform brilliantly, while others find the cold punishing. The Flōh 2.0 is a high performance wetsuit designed for athletes who struggle to stay warm during wetsuit swims. It is fast enough to keep up with the best in class Fjord 2.0 wetsuit, while providing additional warmth to help athletes who struggle with cold water have their best swim. We think this wetsuit will be a popular choice at the IRONMAN World Championship in St. George, where the average water temperature in early May is 62°F/17°C."
Flōh 2.0 – Your best swim.  MSRP $1599.95
Specifications
Super light 44Cell HBF-Limestone WhaleSkin™ neoprene for better buoyancy and rotation stability
Azure Ocellus Pattern for improved visibility
1.5mm patented UltraFlex™ shoulder and arm construction
5mm 48Cell AirFloat™ Stability Panels
Q4 coated, Hydrophobic Super-Stretch comfort lining feels great
GlideSkin™ Surface coating lowers water friction
3mm AquaGrip™ panels
YKK Stainless Steel bottom-up runner zipper
DolphinSkin neck closure for a leak-free swim
Anatomically correct fit ensures peak performance without restrictions
Rear zip entry for fast and easy entry and exit
Hand glued with double blind stitched seams
Made for Cool Temperatures: down to 13° C / 55° F
Approved for use by Ironman, World Triathlon, and ETU when wetsuits are permitted.
Technology
Ocellus Pattern
The Ocellus pattern increases the visibility of a swimmer. The Ocellus pattern is strategically placed on each shoulder, the point of the elbows, and the back of the calves so that a swimmer can be spotted from a distance by another swimmer, a spectator on shore, or someone on a water vessel.
WhaleSkin™ – HBF Limestone Rib Neoprene
Limestone neoprene has a high micro-cell structure. These are independent closed cells (like bubbles) within the neoprene that are packed together at extremely high density. Limestone neoprene has a 94% cell penetration – over 30% more than oil-based neoprene leading to greater impermeability, lightness, warmth, durability and stretch with memory allowing more freedom of movement. Our WhaleSkin™ rib neoprene increases the surface by 18.3%, which in turn increases buoyancy and ultimately increases your speed.  In addition, it's more environmentally friendly.
UltraFlex
Warmer than our other materials yet is still incredibly flexible and highly durable. Our exclusive polymer is fingernail tear proof. It has advanced shape memory, 4-way super stretch, and is lined with an ultra-flexible insulating lining also with 4-way stretch.
The Flōh 2.0 wetsuit is available for pre-order now. Flōh 2.0 pre-orders are expected to ship in March 2022. You can find the deboer Flōh 2.0 wetsuit on the deboer website, www.deboerwetsuits.com. You can find deboer wetsuits on Instagram www.instagram.com/deboerwetsuits/, and on Facebook www.facebook.com/deboerwetsuits/.
###
Contact Info:
Name: Daniel Clarke
Organization: deboer wetsuits
Email: daniel.clarke@deboerwetsuits.com