Deboer Wetsuits Announces Partnership with Ironman World Champion Chelsea Sodaro
February 24, 2023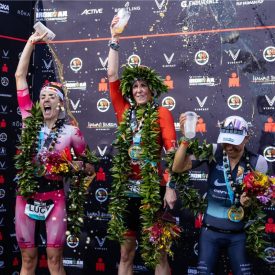 New York, NY /ENDURANCE SPORTSWIRE/ – Deboer Wetsuits, the leading manufacturer of high-performance wetsuits, is proud to announce its partnership with Chelsea Sodaro, the reigning Ironman World Champion. As part of the partnership, Sodaro will wear deboer wetsuits during her training and racing in the 2023 season and beyond.
Sodaro, who grew up in Davis, California, has excelled in a variety of sports throughout her life, including swimming, biking, dancing, and soccer. After discovering her love for running in high school, Sodaro became a four-time All-American at UC Berkeley and has since established herself as one of the biggest up-and-comers in the triathlon world, with a fourth-place finish at the 2019 Ironman 70.3 World Championships in Nice, France and a stunning victory at the 2022 Ironman World Championships in Kona, Hawaii. Sodaro has quickly become an inspiration to not only athletes, but also young families as her daughter Skye was born just 18 months before her dramatic victory at the World Championships.
"We're thrilled to welcome Chelsea to the deboer family," said Alex de Boer, co-founder of deboer wetsuits. "Her dedication to excellence, strong family values, and her commitment to competing at the highest levels of sport align perfectly with our own goals and aspirations. We're excited to work with her to develop the perfect wetsuit for her needs and to help her achieve even greater success in the years to come."
Deboer wetsuits are renowned for their attention to detail, using the finest quality materials and the latest technology to produce wetsuits that maximize body heat sustainability, increase comfort and flexibility, and elevate performance. The company will be releasing one of the most anticipated triathlon products in years on March 1st with their new Fjord 3.0 wetsuit.
"I'm thrilled to be partnering with deboer wetsuits," Sodaro said. "Finding the perfect wetsuit can be really challenging, so I'm especially proud to partner with Deboer. We share similar values and we both want to push the limits of human performance. Deboer is an innovative, creative, forward thinking company. And it's all about the athletes! The suits allow me to find my natural stroke without restricting my shoulders. I love how I feel in the water and know I'm getting a competitive advantage."
With the support of deboer wetsuits, Sodaro is poised to continue her meteoric rise in the triathlon world and cement her status as one of the sport's brightest stars.
For more information about deboer wetsuits, please visit www.deboerwetsuits.com.
For media inquiries please contact:
Jordan Bryden – deboer wetsuits jordan@deboerwetsuits.com
To schedule an interview with Chelsea Sodaro, please contact Santara Group:
Holly Hale – holly.hale@santaragroup.com