Dawn To Dusk Launches The World's First Bottle Cage Ecosystem
January 23, 2020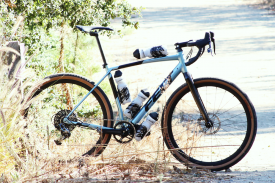 An immersive and collaborative approach to storage on bikes.
An immersive and collaborative approach to storage on bikes.
ESCONDIDO, CA – Dawn To Dusk, a hydration and repair storage accessory company specifically designing for gravel and mountain bikes, launched the world's first bottle cage ecosystem revolutionizing the way riders carry hydration, prevent dehydration, and allow riders to explore longer.
"The bottle cage is a vital part of the riding experience that most riders pay little attention to until they lose their bottle during critical moments of a race or an adventure, and then have to stop and look for it," explained Craig Turner, Founder and Chief Engineer at Dawn To Dusk. "Although the concept of the bottle cage is not new, ironically there have not been any major advancements in its technology, and most traditional bottle cages still fail at its core function – retaining a bottle from launching. With gravel riding on the rise, we believe riders need a radically different type of cage."
Rather than develop "another" cage, Dawn To Dusk took a different approach and designed a system of cages where the right cage, in the right place, and the right type of terrain come together and collectively prevent bottles from launching. They call it the Cage Ecosystem. The core idea around Dawn To Dusk's Cage Ecosystem is interconnection – every cage has a purpose and a role to play.
"In essence, we've redefined the bottle cage," explained Candice Turner, Dawn To Dusk CEO. "All of our cages are meticulously designed for easy access when you want it, and maximum retention when you need it. The G-forces generated by the varying levels of terrain you may ride designates the ideal cage location on the frame – avoiding accidental pop-outs."
Dawn To Dusk's Cages are ranked by grip force, from 6 to 14 lbs, and segmented into two series: Sideburn and Kaptive. The Sideburn series features side access cages with 6 and 8 lbs of Grip Force, while the Kaptive series is designed for straight-pull access and has an 8-14 lb Grip Force range.
The Cage Ecosystem is expandable with Dawn To Dusk's Bear Hug Mount1 which allows riders to place a cage anywhere on their bike when bosses are limited, or for those longer rides that require more hydration. The mount is low-profile and fits a wide variety of tube shapes, sizes, finishes, and does not mark the paint. In addition, Dawn To Dusk's Cage Ecosystem integrates seamlessly with other Dawn To Dusk products like the Dirt Mask, an anti-dirt water bottle cap that provides full cap coverage against dirt, dust, and mud.
It's a radical approach and the kind of innovative thinking that has allowed Dawn To Dusk's sister company XLAB to shake up the triathlon industry for over 25 years with hydration and repair storage accessories, garnering over 30 World Championship titles.
To learn more about Dawn To Dusk and the Cage Ecosystem, please visit www.dawntodusk.bike/cageecosystem.
# # #
1 Bear Hug Mount – MSRP $19.95
2 Dirt Mask – MSRP $6.95
Contact
Marlino Bitanga
Marketing Manager
E marketing@airobike.com
P 760-735-3215
About Dawn To Dusk
Dawn To Dusk is a hydration and repair storage accessory company designing products specifically with gravel and mountain in mind. We created Dawn To Dusk because we believe in the power of small details. Everything counts, because to us, it is much more than products and concepts – it is a way of living.
Storage accessories for bikes are nothing new, but it's frustrating to see poorly designed gear that did not consider the rider's type of adventure during the pivotal design stage in the hands of cyclists and on their bikes. We believe there is a different way.
From our multi-decade experience in designing storage accessories for bicycles, and from many more years of riding our local paths and long adventures across the states, our mission is to bring cyclists storage solutions that don't just get them through their ride but make the experience matter.
Our goal is to be the most comprehensive off-road hydration, nutrition, and repair storage solution on the market, empowering cyclists to explore longer, from Dawn to Dusk.