Cynisca Cycling Announces Inaugural Roster of Talented, Young Cyclists
October 12, 2022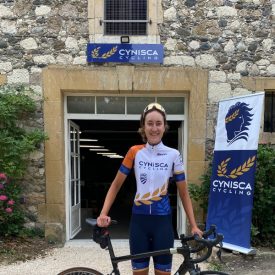 USA Rising stars Zoe Ta-Perez and Katherine Sarkisov will be on roster of team that aims to give North American women more European racing experience
BLOOMINGTON, IN – 12 October 2022 /ENDURANCE SPORTSWIRE/ – Cynisca Cycling, a new pro women's cycling team committed to advancing women in the sport both on and off the bike, announces its inaugural roster of cyclists for the 2023 season. Comprised of 75% North American women, Cynisca Cycling's roster boasts some of the most promising young talent emerging on the international race scene.
"We're excited about the Cynisca project and to announce the first riders," said Chris Gutowsky, the team's general manager and co-founder. "Cynisca will provide the platform for these talented cyclists to train and compete at the highest level and help aspiring athletes realize their dreams. These women represent the future of cycling."
USA Cycling CEO Brendan Quirk commented on the partnership with Cynisca, "USA Cycling is committed to developing more women into elite cyclists, and this partnership is a critical step forward towards our long-term goals at the Paris 2024 and Los Angeles 2028 Olympics. Thanks to Cynisca, we'll welcome a new team of American women into the European peloton and strengthen the next generation of up-and-coming riders."
The Cynisca Cycling Team announced the riders on social media with a nod to the team's namesake, with each athlete declaring "I am Cynisca!" (View here.)
The Cynisca Team members includes:
Caroline (Cara) O'Neill, Tucson, Arizona, USA: While completing her degree at University of Arizona, Cara captured multi-year USA Cycling Collegiate National championships in road, TTT and podium finishes in criterium and CX. In 2022, she also raced with the USA Cycling development team for six weeks in Europe. Her goal is to focus on stage racing in 2023 with the goal of learning to race tactically and as a valuable teammate.
Zoe Ta-Perez, Orange, California, USA: Called the 2022 "US elite nationals breakthrough star" by VeloNews, Zoe claimed the USA U23 national time trial (TT) title and 3rd in overall elite women. A junior World Champion in the Madison, Zoe continues a strong comeback following a brief break from cycling in 2021.
Katherine (Kat) Sarkisov, North Potomac, Maryland, USA: The 2022 USA National Junior road race and time trial Champion, Kat started cycling when she was 10 years old, winning her first National Championship in cyclocross (CX) at age 13. Along with 11th place at the CX junior worlds, her stellar 2022 season included wins at the USA Junior National road race, TT and CX. Her 2022 season also included a block of European racing with the Cynisca Cycling-sponsored USA Cycling development team and strong finishes in the UCI World Junior road and time trial championships in Australia.
Kyleigh Spearing, Frankfurt, Illinois, USA: Kyleigh has a unique multi-sport background, having won the Junior Elite Triathlon National Championship in 2017. While in college (Notre Dame, Cornell), she ran D1 cross country, while still competing at the elite level in triathlon. She is currently focusing on professional cycling in both road and gravel, joining the Cynisca-sponsored USA Cycling development team in Europe.
Maddy Ward, Poway (San Diego), California, USA: The 2022 season included multiple podium finishes for Maddy, including wins at the Tour of the Gila and Snake Alley Criterium. Injury limited her stint on the Cynisca Cycling-sponsored racing tour in Europe representing USA Cycling. She has previously raced for InstaFund and TIBCO-SVB.
Grace Williams, Bloomington, Indiana, USA: A former D1 endurance runner, Grace moved over to cycling, becoming a strong collegiate rider and winner of the Indiana University Little 500. Her 2022 season included multiple 1st place and podium finishes in the US and a sterling 5th place finish at Unbound Gravel (100).
Claire Windsor, Travelers Rest, South Carolina, USA: Claire is a committed and hard-working teammate and was a leader on the LUX team. She has an aggressive racing style and is well-suited to punchy climbs. Her busy 2022 racing season included 15 top ten and five podium finishes plus a solid UCI race block in Europe. In 2021, she finished 3rd in the USA U23 National criterium and 4th in the U23 road race championships.
Émilie Fortin, Laval, Quebec, CANADA: Émilie is a mix of a climber and rouleur who can be strategic in the hard races. Coming back from crashes and Covid, she had an impressive 2022 with several top five finishes in French Cup races and a win at La Charente Maritime. Her consistent results in late-summer 2022 point towards a strong 2023 season.
Pauline Allin, Saint Dizant-du-Gua, Charente-Maritime, FRANCE: A very experienced French pro, Pauline has most recently raced for UCI Continental Team Arkéa Pro Cycling. She has scored some impressive results including stage victories at Tour l'Ardeche. She has also competed in Liège-Bastogne-Liège, Paris-Roubaix Femmes and the Giro d'Italia.
Chloé Fourmigué, Bagnères de Bigorre, FRANCE: Chloé lives in the Pyrenees and brings solid climbing skills with promising results in 2022 in the mountains as well as top-20 performance in the French National TT championships. As a former elite-level cross-country skier, her endurance background is perfect for a developing cyclist.
Greta Richioud, Tournon-sur-Rhône Ardèche, FRANCE: Greta brings more than seven years of World Tour riding experience to the team with strong performances in Strade Bianche, Giro d'Italie, l'Ardeche and several classics. She has ridden for FDJ, Hitec Products and most recently Arkea. She is looking forward to the new opportunities on the Cynisca Cycling team.
Cynisca Cycling will be supported by the team sports director Marion Clignet, general manager Chris Gutowsky and operations director Robin Farina among others, all dedicated to the success of these talented young women and the advancement of women in all disciplines of the sport. The team is initially funded by Solution Tree, a leader in professional development for K-12 educators.
For the launch of the team, UCI President David Lappartient offered these encouraging words: "The UCI works very hard to develop women's cycling and is glad of the support it receives for this mission. So, my thanks go to Jeff Jones and Chris Gutowsky, who had the vision to launch another pro cycling team in Europe. The Cynisca riders have a great name to live up to. I'm sure this will motivate them to reach for the stars. We look forward to following Cynisca Cycling as its riders embark on this new and exciting adventure.
Cynisca Cycling is a non-profit organization dedicated to advancing women in cycling, both on and off the bike. Opportunities for sponsorship and support are available.
About Cynisca Cycling:
Cynisca Cycling, officially launched on July 20, 2022, is the only majority USA rider team that is US-licensed and UCI registered. Cynisca Cycling is working with partners at USA Cycling to identify young riders with the talent, dedication and drive to compete at the World level. The team will inspire and elevate USA women cyclists participating in developmental programs to reach the highest levels of the sport through a full system of support, guidance, coaching and science. www.cyniscacycling.com
About Solution Tree:
Since 1998, Solution Tree has worked to transform education worldwide by empowering educators to raise student achievement. With more than 48,962 educators attending professional learning events and more than 5,500 professional development days in schools each year, Solution Tree helps teachers and administrators confront essential challenges. Solution Tree has a catalog of more than 500 titles, hundreds of videos and online courses and is the creator of Global PD, an online tool that facilitates the work of professional learning communities for more than 20,000 educators.
For access to rider photos to download:
https://drive.google.com/drive/folders/1Legj2LpNftOV15DYXqR8huUX8QaYmbDT?usp=sharing
Video introducing the Cynisca Cycling team:
For more information:
Contact: Barbara Giles
+1 407.765.3017