Cutting Edge Textile Technology Powers Pearl Izumi's Fall 22 Line to Keep Cyclists Warm and Dry Through Changing Seasons
July 31, 2022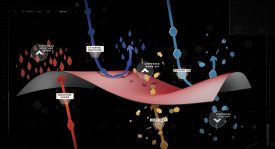 Louisville, Colo. (July 31, 2022)/ENDURANCE SPORTSWIRE/ – PEARL iZUMi, the worldwide leader in premium cycling apparel and footwear, is excited to introduce its Fall 2022 line featuring Polartec® Neoshell® technology, which perfectly balances weather protection and garment breathability. From new thermal apparel and layering pieces to best-in-class outerwear, PEARL iZUMi's Fall 2022 line gives riders no excuses not to ride through the seasons.
"Every year you can see a noticeable drop off in the number of riders on the road or trail as we head into winter, and that's because cyclist face unique challenges when it comes to staying warm and dry when the weather turns," said PEARL iZUMi Dir of Marketing Andrew Hammond. "Layers need to be breathable for climbing and big efforts, but provide enough protection for rain, snow or cold descents. Our job is to make it easy for riders to stay comfortable so they can get more great days on the bike. We've conducted extensive testing both in the field and at the ACE Climatic Windtunnel to solve one of the biggest challenges – staying dry without overheating in the rain. Polartec® Neoshell® outperformed other fabrics significantly and we're excited to launch some incredible products incorportating this cutting edge technology in our fall range."
The Fall 22 line starts with the Men's PRO Neoshell® WxB Jacket, available in both road ($325) and mountain bike ($375) styles. The jacket's advanced membrane construction allows constant air exchange while providing full 20K/20K waterproof protection. Neoshell technology is also available in the new Summit WRX Neoshell® Gloves ($60), offering a long-awaited solution to keep hands both warm and dry through cold and wet conditions.
For riders looking for a lightweight, packable layer, the Men's Summit PRO Barrier Jacket ($125) and the Women's Summit Barrier Jacket ($85) are stretch-woven with a PFC-free DWR coating that provides insurance from inclement weather. When conditions produce a more steady rainfall, the Summit 3L WxB Jacket ($175) in both Men's and Women's styles offers lasting protection with lightweight recycled 10k/10k waterproof, 3-layer fabric and a YKK Aquagaurd waterproof main zipper. The Summit Alpha Gloves ($55) keep hands warm and fingers shifting smoothly when the temperatures drop thanks to a Polartec® Alpha® panel along the back of the hand, providing insulation with minimal bulk. The gloves are also touchscreen capable.
PEARL iZUMi continues to evolve its mountain bike line with new trail pants. The Summit 3L WxB Pants ($185) feature a fully-waterproof construction and tapered lower legs with elastic closures to keep moisture from creeping in. For a lightweight softshell option, the Summit AmFIB® Lite Pants ($160) in Men's and Women's styles are a perfect choice. The pants also feature PI Dry®, which adds the benefit of water-shedding technology.
The all-new PRO Alpha Layer ($160) leads in layering innovation on the road. This product features premium Polartec® Alpha Direct® fabric that provides insulation while cutting out the bulk. The PRO Alpha Layer hits all the layering needs: lightweight, soft, sweat-wicking, and breathable while also including back pockets to store ride essentials or your jacket on a long climb. PEARL iZUMi's full-length bib tights, the Women's Thermal Cycling Bib Tights ($165), and the Men's Expedition Thermal Cycling Bib Tights ($185) offer a bib-tight option that is perfect for cooler spring or fall rides. Strategically placed AmFIB softshell material is added to the AmFIB® Lite Cycling Tights ($190) to keep riders pedaling through the colder days. Finally, for the coldest winter rides, the AmFIB® Cycling Tights ($205) for men and the AmFIB® Cycling Tight ($145) for women feature more AmFIB® softshell coverage with thermal fleece lined on the backs of the knees and thighs for breathability. Each cycling tight is updated with the brand's new Levitate Plus chamois, including PI Dry® technology with the BioViz® reflective elements.
Rounding out the new offerings for Fall 2022 are everyday riding staples from PEARL iZUMi's BikeStyle line. The Prospect Barrier Jacket in Men's and Women's ($180) is a daily commuter's dream, and with a Pedal to Zero mileage of 40 miles for the women's jacket and 46 miles for the men's jacket, riders will zero out the garment's carbon footprint in no time. Notable features are its hood-over-helmet design, fashion-forward BioViz® pennant, PI Dry® water-shedding technology, and recycled material construction. For casual and comfortable wear, the new Prospect Thermal Jogger, available in both Men's and Women's ($105) styles, provides technical features for both lounging and riding. The joggers feature a brushed fleece interior, GoFresh anti-odor treatment, rear-facing ride access pockets, and transparent BioViz® reflective elements for safety when cycling in low-light conditions.
Finally, all the new Fall 2022 products will include PEARL iZUMi's Pedal to Zero calculation, which determines how far a rider must pedal versus driving to offset the carbon produced in the production of the product.
To view the entire Fall 2022 line, please visit pearlizumi.com.
About PEARL iZUMi
PEARL iZUMi was founded on two things: the love of cycling and, more importantly, love for future generations. The brand originated more than 70 years ago in Japan when the founder created a special jersey out of technical fabric for his son, an aspiring bike racer. Since then, the company has been progressing the design and manufacture of performance apparel and footwear for cyclists of all levels. PEARL iZUMi believes that how we live shapes how future generations ride and is committed to using its business practices, products, and community advocacy to positively impact cycling. PEARL iZUMi's world headquarters are located in the Colorado Front Range, where it embraces strong influence, both culturally and structurally, from its Japanese heritage.